It's been almost one year since Graham Norton tied the knot with filmmaker Jono McLeod in a secret ceremony here in Ireland.
The chat show host wed his long-term partner in Co.Cork where the pair enjoyed two whole days of celebrations surrounded by close friends and family alike.
Now, however, Graham is lifting the lid on one of his favourite memories from the day itself, which believe it or not came from his very own speech!
Speaking to the Guardian, Graham joked about how it felt to marry later in life.
"I had a joke in my speech: the vows are much more manageable. 'Till death do us part' seems more achievable at our age.
"If you get married at 23, that's a big ask. We only have to put up with each other for a couple of decades. And then I'll be out of here," he shared.
Graham and Jono decided to host their wedding back in Ireland last summer to accommodate Graham's mother, Rhoda who wouldn't have been well enough at the time to travel very far.
Speaking about his mother, and late father, Graham couldn't be more thankful to his parents for being so accepting and for never trying to stop him from being who he really was.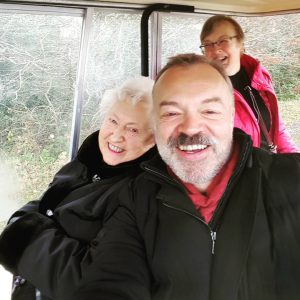 "These were Irish parents in the 60s. In a small town in Ireland, I think that was kind of radical that they didn't fight any of it," he told the publication.
Adding: "They let me fly my freak flag."
And as far as married life goes? Graham previously admitted on BBC Radio 4 that all was going well.
Sharing: "I'm from that generation of gays who assumed it was never going to be on the cards. So, one, it's extraordinary that it can happen, I mean I never gave up hope of finding the one. If it was a surprise, it was a pleasant surprise."