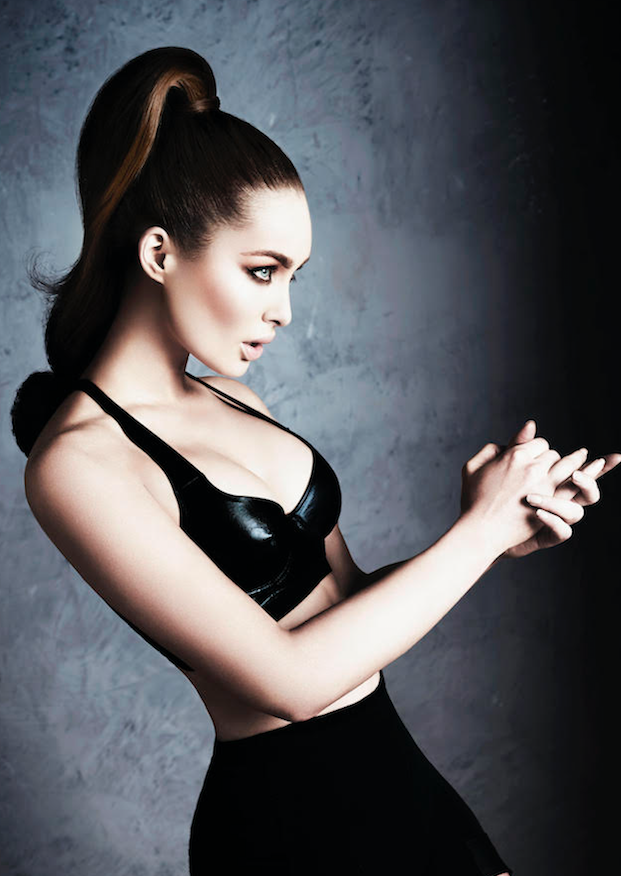 A step-by-step guide to achieveing Roz Purcell's sleek high ponytail by Alex Keville, senior stylist at the fabulous Alan Keville for Hair, which has just moved from Dublin's South Anne Street to a stunning new salon in Powerscourt Centre, South William Street.
"For this shot, we wanted a statement style, so we chose this high ponytail for the beautiful Roz," says Alex.
"The great thing about this look is that it can take you from the office to the nightclub! Here's how to nail the look at home…"
Step 1: Position the pony so that it aligns with your cheekbones to get that 'instant facelift' effect. Use a brush to make sure there are no kinks and secure it with a double elastic band at the crown so it's very tight.
Step 2: Spray the front section of the hair with hairspray so it looks shiny and sleek. We recommend Kevin Murphy products, which we stock in the salons.
Step 3: Hide the elastic bands with a piece of your own hair from the ponytail. Simply pull out a small inch-width section from the back of your ponytail and wrap it around the base of the ponytail and secure with bobby pins at the back.
Step 4: Add volume to the root of the pony by using a small backcomb brush and backcombing sections of the ponytail, near the roots, spraying with a stronghold hairspray as you go. For movement in the lengths, use a texturising spray or a shine spray. Spray liberally on your whole head to make sure there are no flyaway parts and you're good to go!
Will you recreate this stunning look?