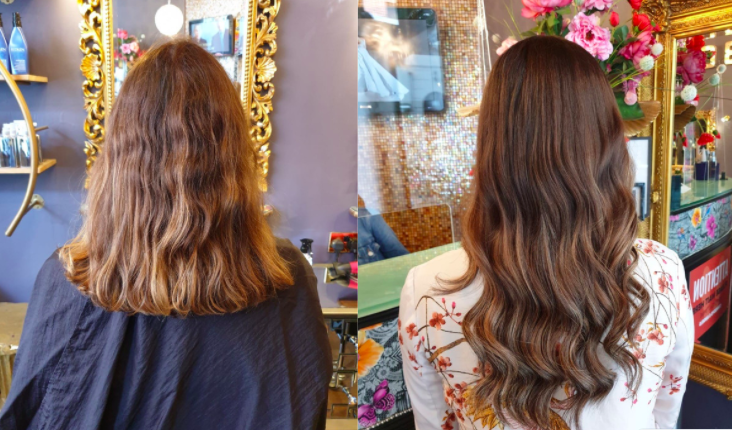 This month, VIP's beauty editor Niamh Devereux had a hair transformation with Great Lengths – here's all you need to know about getting extensions, from start to finish.
First up, choose your brand of extensions. This is something worth investing in; not only do you want premium quality hair, but you want it to be ethically sourced. For me, it was a no brainer to go with Great Lengths, which sources its chemically unprocessed human hair from donations made by women to Indian temples, with proceeds going towards local charities.
Research what kind of extensions you think will suit your lifestyle: bonds or tapes? I opted for bonds, as I wanted my extensions to last 3-5 months. Tapes last between 4-6 weeks and can be re-applied up to three times, making them a great option for special occasions.
View this post on Instagram
Next, search for your nearest certified salon and book in for a free consultation. I chose Cowboys and Angels, a Great Lengths Platinum rated salon on Dublin's South William Street, renowned as one of the best in the city. My stylist Rachel Wyse put me at ease straight away; she enquired what length I was looking for, and went through colour shades so that the extensions would blend seamlessly with my highlighted hair. As I wanted a full look and length past my shoulders, she explained that I would need 125 pieces in 40cms and that she would be blending my base colour, dark brown and two caramel tones.
I was booked in the following week for my extensions to be applied. The process took over three hours, and with new procedures, a mask has to be worn at all times and magazines are not offered, so make sure to bring your new VIP with you! Once the bonds were applied, Rachel cut and styled my new locks and I can't tell you how glamorous I felt.
Now begins the aftercare, which is vital to make your extensions last. Brush regularly with a soft bristle brush. Shampoo at least once a week with a sulphate free product, and avoid conditioner getting near your bonds. Always make sure to dry your bonds carefully, and sleep with your hair in a loose pony or plait. I've had mine in a few weeks now and I sense an addiction coming on…
For information, and prices, head to greatlengths.com and cowboys-and-angels.ie.