A movie with Paul Mescal and Andrew Scott? Yes please!
Although it was announced last year that the two Irish actors would be starring opposite each other in a loose adaption of Taichi Yamada's 1987 novel, Strangers, it is only now that we are getting a first look into the highly anticipated movie.
In a photo released by Searchlight Pictures, we can see Paul's arm draped around Andrew as the duo get close in a nightclub setting.
The film, entitled, All of Us Strangers follows Adam (Andrew), a London-based screenwriter who strikes up a "chance encounter" with his neighbour Harry (Paul).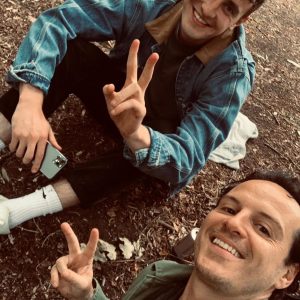 "As Adam and Harry get closer, Adam is pulled back to his childhood home where it appears his long-dead parents (Claire Foy and Jamie Bell) are both living and look the same age as the day they died 30 years before," reads the official synopsis.
While the original story takes place in Tokyo during the 1980s, Andrew Haigh's adaptation is set in modern London.
There's no denying that the film is coming at a busy time for both of its lead actors with Paul currently leading a sequel to Ridley Scott's 2000 film Gladiator.
While Andrew is playing Tom Ripley in an upcoming Netflix miniseries adaption of Patricia Highsmith's novel, The Talented Mr. Ripley.
Previously speaking to IndiWire about what type of films he could see himself doing more of, Paul admitted: "Indie cinema is where I want to live and be."
"I love a blockbuster as much as the next person, but my only point is that we have to be careful about just leaving a bit more space for films like 'Aftersun' to break out, films like 'Close' to break out."
You can check out All of Us Strangers in theatres this December.