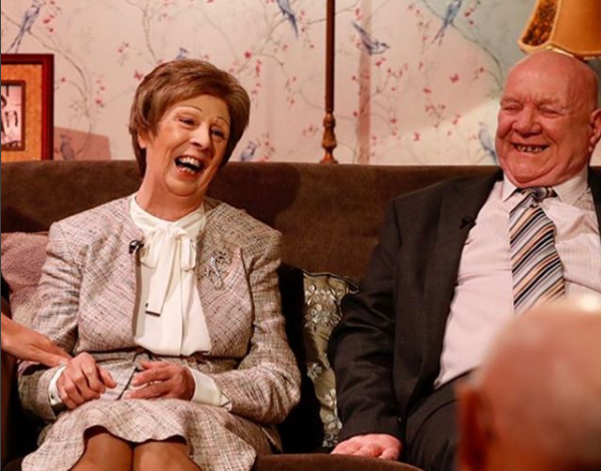 Last night saw The Late Late Show's annual Valentine's Day special, that made the nation laugh, cry and cringe.
Ryan welcomed guests such as Doireann Garrihy, Eoghan McDermott and DWTS Ireland contestant Rob Heffernan in a special episode that got people talking.
However, everyone online was saying the same thing about the V day Late Late Show, and it wasn't about the celeb guests!
Dublin couple Leo and Bridie stole the show with their hilarious antics and banter, in a segment celebrating couples who had the secret to a long lasting marriage.
The pair, who were the stars of a hilarious viral video last month got people laughing once again, and were everyone's couple goals.
Hilarious….! Bridie and Leo….classic! #lashthecansintoya #4cansashow #LateLateShow

— Karen Delaney (@KDelaney4) February 9, 2018
Bridie and Leo are couple goals #LateLateShow

— Emma Tyrrell (@emtyrreller) February 9, 2018
Loving Leo and Bridie and her bag a cans. #Legend #LateLateShow

— Sarah Kenny (@SarahKenny2) February 9, 2018
Relationship goals#LateLateShow

— Just Eat Ireland (@JustEatIE) February 9, 2018
Feeling inspired by the woman who tells her husband to go to bed and has four cans of Coors Light every Friday while watching the #LateLateShow.

— amy o'connor (@amyohconnor) February 9, 2018
Valentine's #LateLateShow is always a belter more interviews with the auld couples please

— Rory's Stories (@RorysStories) February 9, 2018
Give it a lash Bridie #LateLateShow

— Joyce rubotham (@seoighee) February 9, 2018
Parent goals #Bridie #latelateshow

— Emer (@Emz_here) February 9, 2018
Bridie is my spirit animal. Lashing the cans down #LateLateShow

— Stephanie Moriarty (@Stephanie_Enrig) February 9, 2018
Did you catch their hilarious segment?
#CoupleGoals