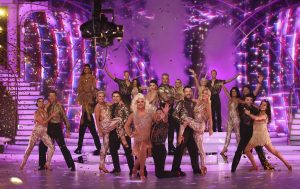 Dancing with the Stars is back for week three and we couldn't be more impressed with our celebrities!
It was all to play for this week as the couples fought to keep their place in the competition but sadly, it was time to say goodbye to one.
Here's how it went…
Suzanne Jackson and Michael Danilczuk
Tonight's entertainment started with a bang as Suzanne and Michael opened the show with a lively Jive. But nerves got to the better of them, resulting in a score of 15 points.
Kevin McGahern and Laura Nolan
Kevin and Laura may not like Mondays but they are all about the weekend which saw them perform the tango, earning them 17 points.
Paul Brogan and Salome Chachua 
Paul and Salome took it to the limit with a waltz for a heartfelt performance and earned 20 points.
Dr Marie Cassidy and Stephen Vincent 
Dr Marie Cassidy took to the floor with partner Stephen Vincent for a fun Salsa taking home 17 points.
Panti Bliss and Denys Samson
Panti and Denys turned up the heat with the Quickstep and impressed the judges who gave them 21 points.
Carl Mullan and Emily Barker
Carl and Emilly definitely shook their Bon-Bons as they danced the Samba which earned them 20 points.
Damien McGinty and Kylee Vincent
Damien and Kylee proved it was all for us as they waltzed their way across the floor, resulting in a touching performance and earning a whopping 25 points.
Leah O'Rourke and John Nolan
Leah and John took to the floor tonight with a Cha Cha Cha but left the judges wanting more which resulted in them getting 11 points.
Brooke Scullion and Robert Rowiński
Brooke and Robert did in fact throw it back to 2002 with their high-energy moves for a sensual Rumba, taking home the highest score of the series with 26 points.
Stephanie Roche and Ervinas Merfeldas
Stephanie and Ervinas were all about the hustle this week as they danced the Charleston which gained them 23 points.
Shane Byrne and Karen Byrne
Shane and Karen were born to be wild as they showed off their dance moves, receiving 15 points.
Who was eliminated?
Sadly, it was time for Leah O'Rourke's journey to come to the end, which left her saying goodbye to her time on Dancing with the Stars.
Leah and her professional partner John had danced the Cha Cha Cha scoring 11 points but unfortunatlely it wasn't enough for the pair to make it through to next week's show.
"Im feeling okay with my limited dancing ability," explained Leah before expressing how she wanted to give it a shot.
"I've had the best time with John, he's been an icon and legend," she added.