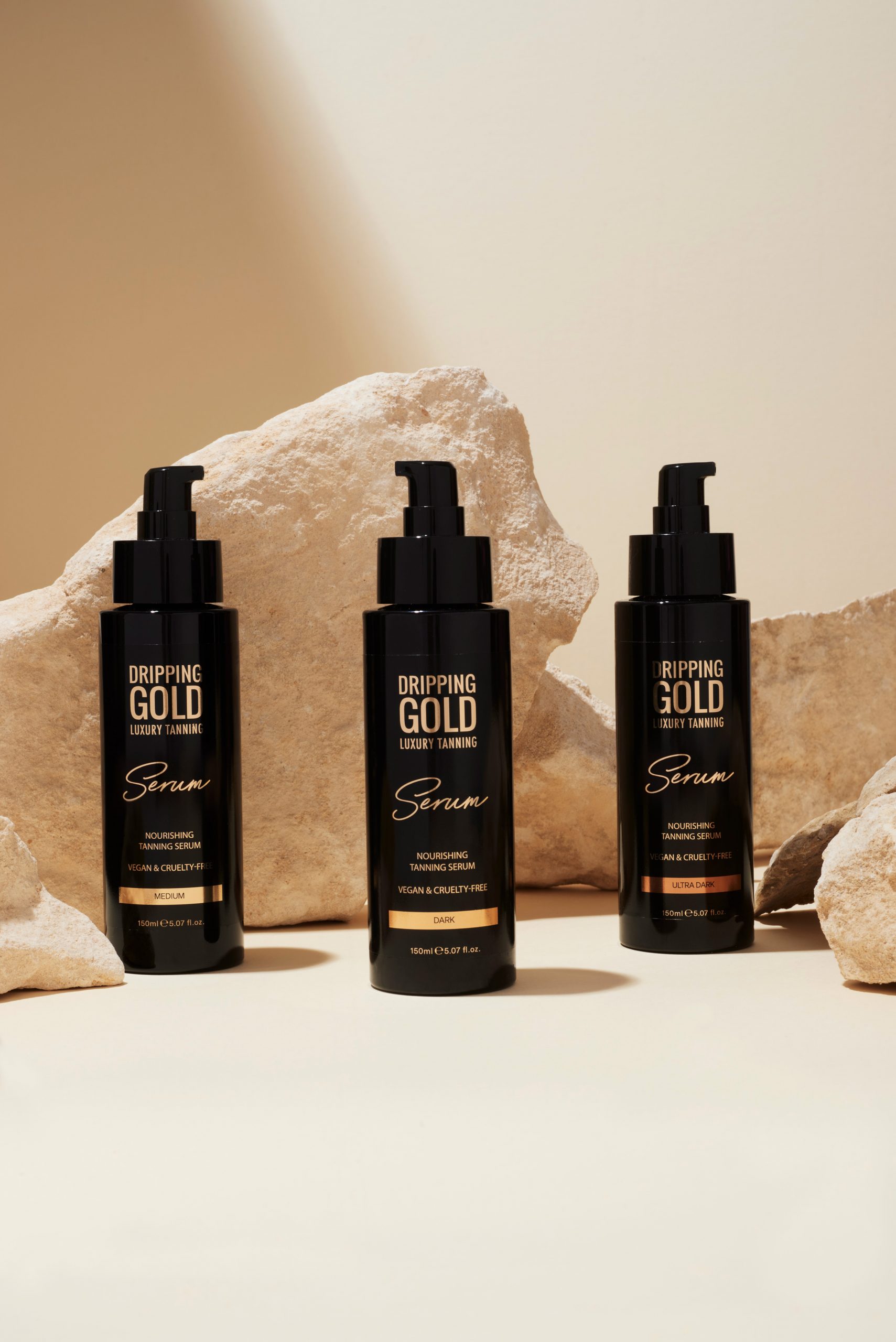 There's something special about that gorgeous, sun-kissed feeling.
If you've been on a trip away this year, you'll know what we mean. Your skin feels nourished, radiant, and of course, looks beautiful.
It's even better when you get to bring that feeling home with you, stepping off the plane and knowing that you're going to be boasting that stunning bronzed look for the rest of the summer.
What if you could bottle that feeling and enjoy a radiant, glowing look from the comfort of your home, while also giving your skin the nourishment it craves?
Well, lucky for us (and for you), you can.
Introducing Dripping Gold's newest tan, Dripping Gold Serum – a beautiful new skincare led self tanning product that has body-care at its core.
Powered by nourishing ingredients including rose hip seed oil (to help brighten the skin's appearance), goji berry (to help even the skin tone and reduce pigmentation), and grape seed oil (which is rich in omega 6 and vitamin E to help boost elasticity and encourage softer skin), Dripping Gold Serum is your ultimate summer must-have.
The tan glides onto the skin effortlessly and evenly and streak-free, leaving you with a beautiful, natural radiance, while the serum gently sinks into your skin producing a plump, luminous finish.
What else could you ever want from a self-tan?
Dripping Gold Serum's ultra hydrating formula comes in three deep, rich shades: Medium; golden-olive tone, Dark; deep golden tone, and Ultra Dark; intense deep tone.
The ready-to-wear tan boasts a tropical scent you're going to love wearing, as well so many other nourishing ingredients great for the skin, including squalane to increase hydration, chamomile flower extract to boost skin vitality through a natural source of antioxidants, and acai berry extract to boost elasticity and anti-ageing.
What's more is that the new luxurious product fades evenly, making the experiencing of using Dripping Gold Serum even more satisfying.
So if you're in the market for a new body-care tanning product that will produce a gorgeous, natural bronze, look no further than Dripping Gold Serum.
Everybody will be asking when you got back from your summer holidays, even if you haven't even been yet.
Dripping Gold Serum is available to purchase online today (July 20) for €24 from the Dripping Gold website here.