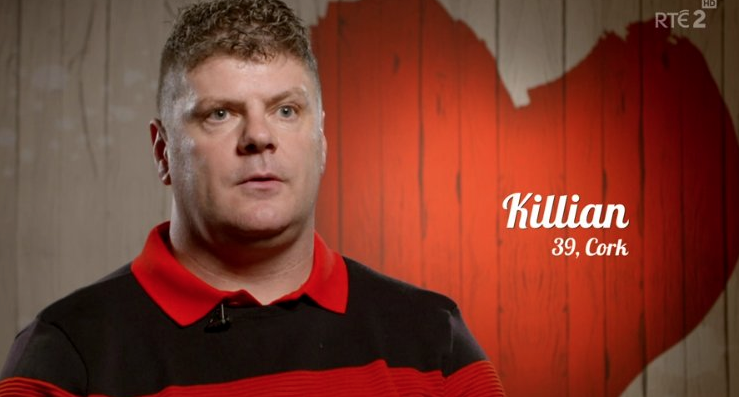 Last night saw another captivating episode of First Dates Ireland, and everyone was saying that same thing about returning dater, Killian.
The Co. Cork man returned to the restaurant to try his hand at finding love for a second time – meeting the lovely Danielle from Co. Derry.
Despite the pair seeming to hit it off, it seemed the distance was too much as they decided not to go on a second date.
Killian did, however, win the hearts of the rest of the country, with everyone agreeing that they wanted him to meet the one!
I think Killian and "McGregor" have captured the hearts of the nation tonight….or at least those of us who watch #firstdatesirl

—SUSAN (@Bikerontheback) January 31, 2019
Heartbroken for Killian on #FirstDatesIRL

— Andrea Hayde (@Drealou91) January 31, 2019
#FirstDatesIRL should Keep Killian on every week until he meets his princess pic.twitter.com/M6mOnGkSMR

— Dom (@_07maestro) January 31, 2019
Ah sure poor Killian. Bless him like he tries so hard. The poor thing! #GetKillianADate #firstdatesirl pic.twitter.com/utu3HMls2u

— Silvia-Maria Crowley (@SilviaCrowley) January 31, 2019
Awwww poor Killian #FirstDatesIRL

— Margaret Gallagher (@gallaghermgt) January 31, 2019
Don't give up on Killian. Give him another go. 3rd time lucky. #firstdatesirl

— Robert Barrett (@barrettrob) January 31, 2019
Nnnoooooooo!!! I was sure she'd say yes! Killian's Hilarious!! #FirstDatesIRL

— Kelly (@squirrelk10) January 31, 2019
Poor Killian. I almost feel sorry for him…. again. #FirstDatesIrl

— david whelan (@dulchiewhelan) January 31, 2019
Sure there's always next year, Killian and maybe the year after #FirstDatesIrl

— The Cork Coypu (@CorkCoypu) January 31, 2019
#firstdatesirl poor killian…..shel regret it yet..!!!!!!!

— Vivienne (@viviennevogue) January 31, 2019
What did you think of Killian and Danielle's date?