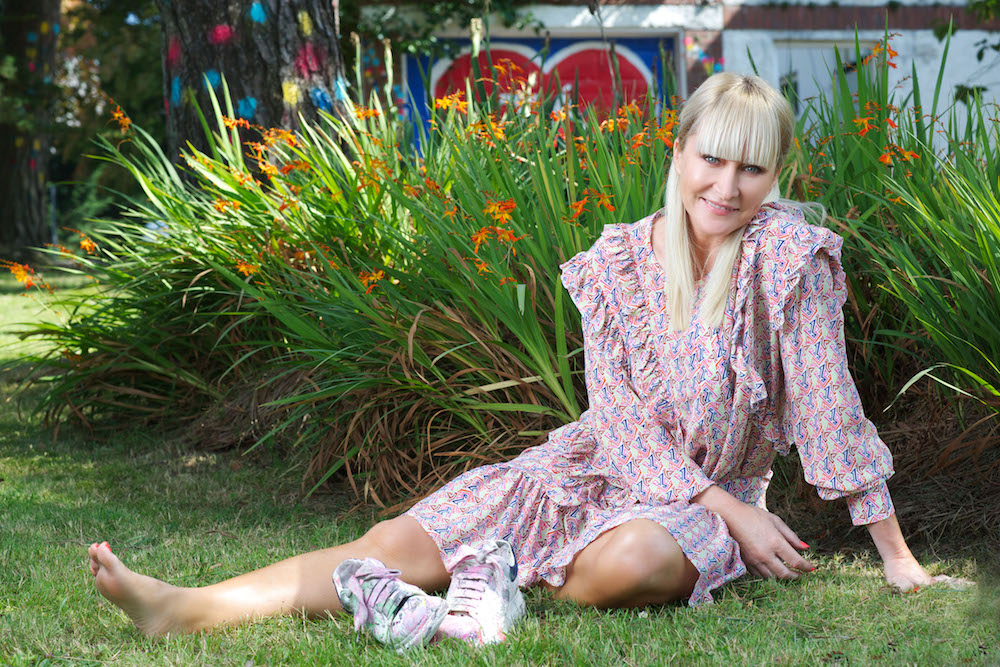 Trying to sum up Irish designer Helen Steele in just a few words is a difficult task. But we will try. After a lovely couple of hours spent in her company, we leave knowing she is thoughtful, kind and all-round cool – and of course, so talented. For this shoot, we visited Helen at home in Co. Monaghan, joined by two of Helen's three children Halle (18) and Ronnie (15). It should be noted that we spent most of the day outside, partly as we're all covid conscious these days, but mainly as the weather was so beautiful and the sun was splitting the sky. Our sun-soaked surroundings complimented the riot of colour and print that are Helen's beautiful pieces perfectly. Which brings us back to her talent! It is simply captivating, and it has resulted in her being a prolific designer, achieved through years of hard graft. You will be familiar with her main line of Helen Steele pieces, comprising of the most beautiful dresses and pieces we could ever dream of wearing, but it is her collaborations with Dunnes Stores in recent years that have expanded her reach all the more, with her hugely popular activewear collections proving to be an instant hit.
Now, over the past few months, she has used this time to create even more, with the demand for her beautifully crafted face-masks higher than ever; a colour therapy line of sweatshirts and t-shirts and an interiors range en route with Dunnes Stores, as well as many other exciting developments in the mix. Just how does she do it all? "My work is my therapy," she tells VIP. "Working has been this one consistent thing in my whole life. Through all the ups and downs it has just been the one thing that has just been there all along." When Helen talks about her work, you can just see the love for it written all over her. During our shoot we find ourselves transfixed by her wonderful studio: an eclectic mix of paintings and paint splashes, it is the place where it all comes together. And when Helen is not working? She's outside, running, hiking and walking, soaking in all the beauty that Monaghan has to offer.
After a gorgeous day of laughs, chats and the scoffing of tasty sandwiches we sit down to find out how she has found this past year, the inspirations behind where she is today, her research on colour therapy, sustainable style and the Irish brands she loves, and discuss how it feels to see her dreams become reality…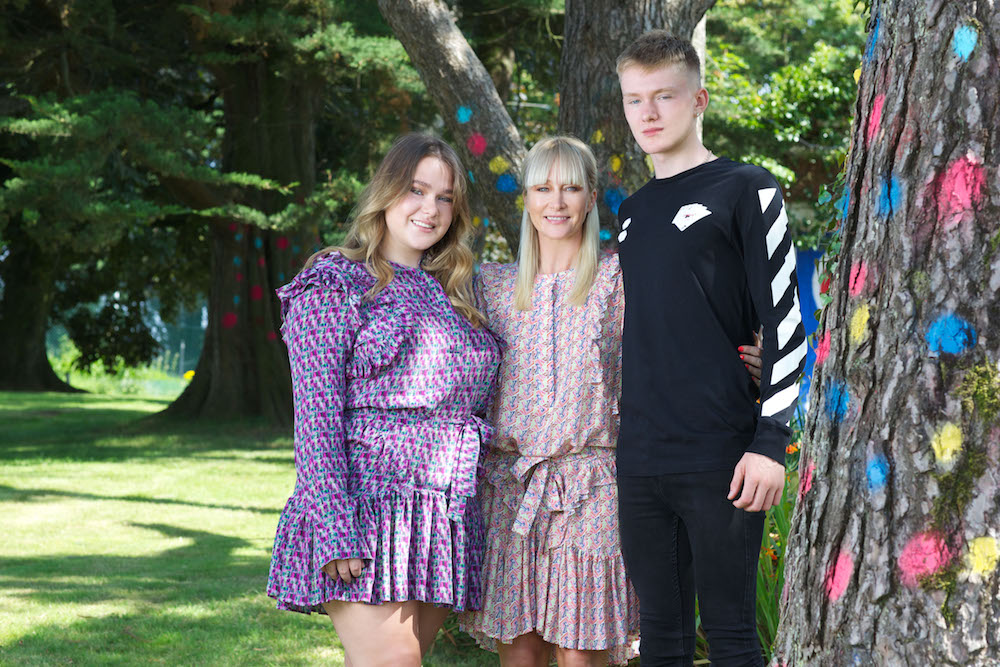 Helen, how has 2020 been for you?
It's made me realise that you can plan all you want but sometimes things don't work out the way you thought they would! But overall for me it has been a really good year. Lockdown showed all of us that we all live life at such a fast pace, and it just made everyone stop in their tracks and live properly. Instead of this mad existence of rushing around and spending half the week in the car!
So you got a chance to enjoy it?
It actually really made me revise how I want to produce my work and what I want it to be, the essence of it. I really wanted to create things that have meaning. I spent a lot of time researching colour and colour therapy which was really interesting. It's strange the colours that you surround yourself with and you don't even realise you're doing it. Take my sitting room for example, which is white and green, I painted it a few years ago and I just feel utterly at peace in that room. I have a desk in there too where I spend a lot of time mapping things out for work. It's just a great place for thinking and it's all to do with the colours.
Colour is one of those things that makes your brand so unique. Where did this love of colour come from?
As a kid I had ADHD and I found painting and colour really therapeutic. When I was in school it was so rigid and conformist and the only way I could stay out of trouble was messing around with colouring pencils. It is amazing how you are drawn to things that end up being your saving grace.
Speaking of your childhood, you have had some important influences growing up from members of your family…
My grandmother taught me how to sew. Her family were dressmakers, and going back even further than that they were crochet makers and it was a skill that was handed down from mother to daughter. So working with her was pretty amazing. She had loads of beautiful pieces of fabric that she had kept, old liberty prints…gorgeous stuff.
What was a piece you created that was the catalyst for what you do now?
The first thing I properly made, (that I got in trouble for!) was cutting up the skirt part of my Communion dress to put on one of our Alsatian dogs [laughs]. Neither my sister nor my brother would try it on for me so it just came down to the dog! My mum found it and went mad! When I was 14 I actually cut up beautiful silk curtains and made them into trousers and wore them to a U2 concert. On the way home, the side-seam ripped so I had to make my way by literally holding them together. It was just a disgrace [laughs].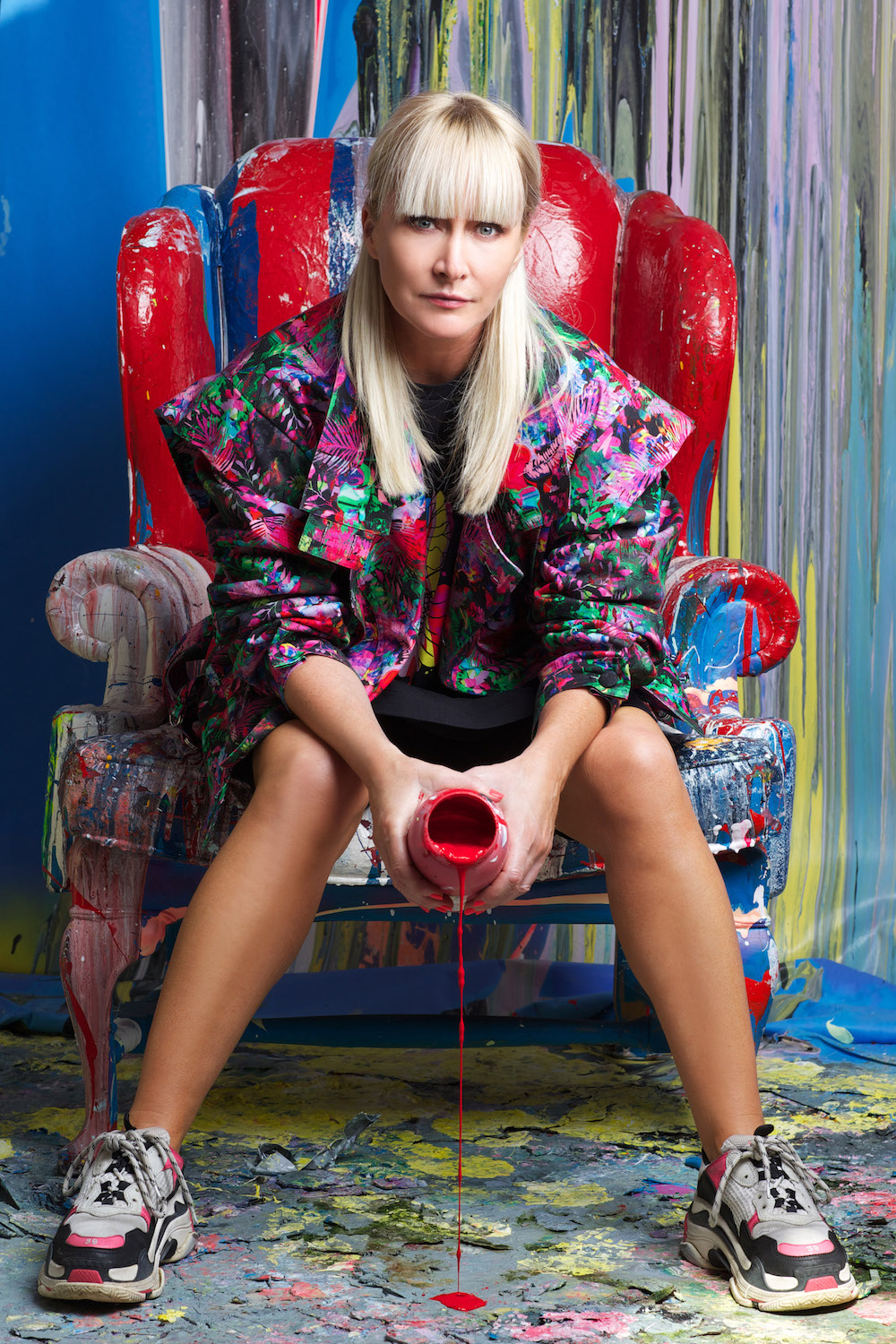 So even fab Irish designers have fashion mishaps!
Oh, god yes.
Let's talk about running. This is something you found very helpful when managing your ADHD which went undiagnosed while you were in secondary school. Does it remain your saving grace?
Yes, running, walking, hiking… you name it. It depends on the level I am at on a particular day. It is like this coil that's like going mad…it reminds me of that feeling when you drink too much coffee. Some days it's up to a ten and they're the days that I just need to get out and run.
Prior to the pandemic, there was definitely more of a pull towards our cities, but now we are seeing many embrace and appreciate the country life. You are ahead of the curve as a prolific Irish designer based in Monaghan.
Yeah! Although it does feel like I am based in the car sometimes [laughs]. But it is so true. I come in and I close the doors and just breathe. Before Halle was born we were changing a room into a bathroom that had originally been my studio. I remember standing in the corner and looking out at this breathtaking view of the lake that overlooks our house and just going, "this is stunning". It's so quiet and peaceful and you do just feel your shoulders drop as you come in the door. I am lucky where I live, it has been very good to me.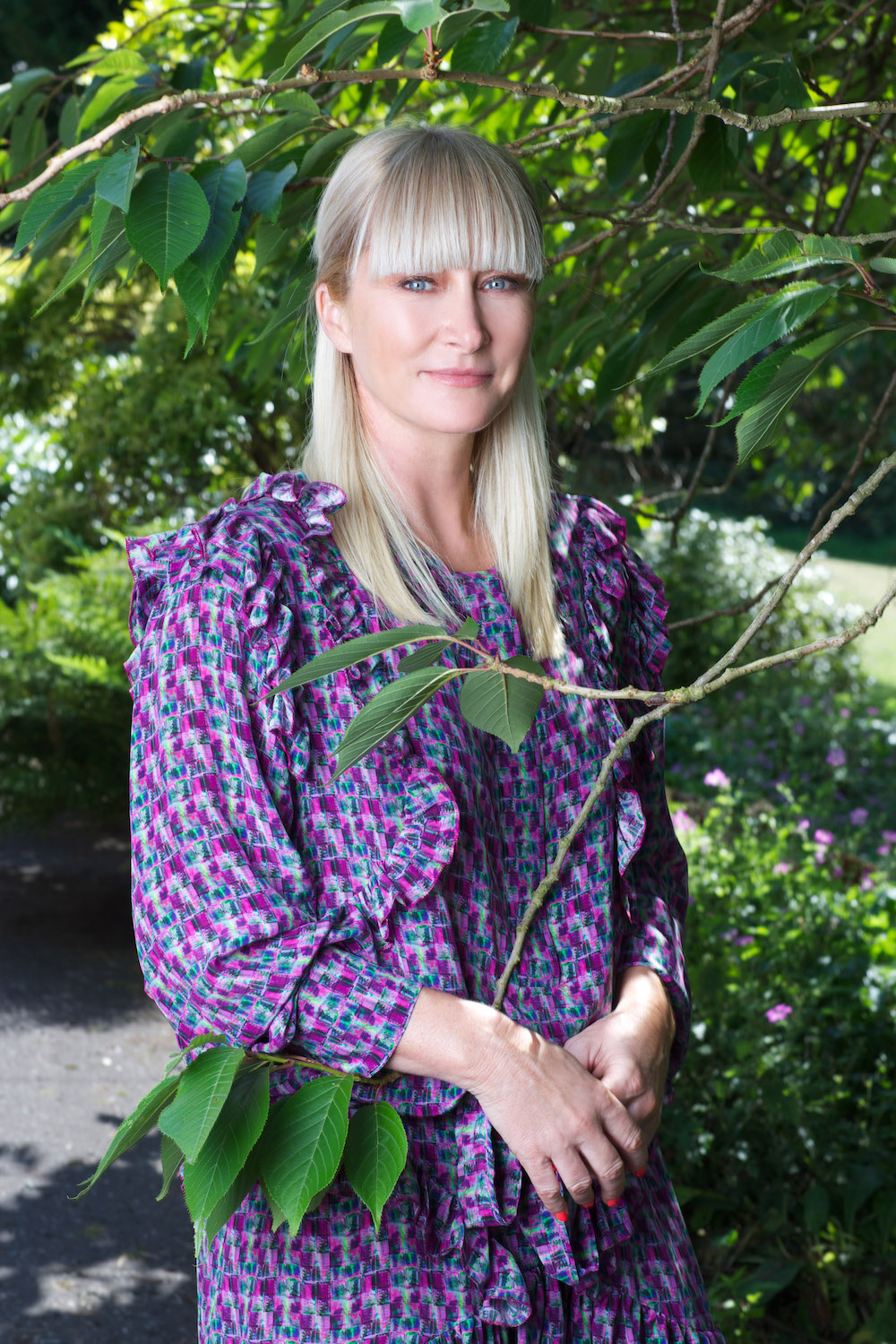 Speaking of the great outdoors, tell us the latest on your activewear line for Dunnes Stores. Are we going to see a new drop soon?
Yes! It's unbelievable the number of people who message me to ask me about when that will be. We have the big drop coming in January 2021 but we have also decided to bring out a range of colour therapy t-shirts, sweatshirts and hoodies next month, just with a simple brush stroke of colour and an explanation of the meaning behind each colour. And then there is also going to be a new collection of face-masks based on colour therapy too. It's all very exciting.
We can't wait to see it. For the moment, you have been designing face-masks using recycled fabrics and selling them via your own Instagram…
The reaction to my masks has just been overwhelming, so that's one of the reasons lockdown was so busy. In the beginning, my website crashed, as in my online shop crashed because of the level of demand for them. That's when I started to direct people to place their orders via my Instagram messages. Now I actually get to talk to my customers as well and it's been a bit more personable. I know it's just buying a mask but I think it was just a nicer and more connected way to do business and to interact with my customers. It's been a really positive experience. And some of the proceeds from my face-masks go to the Jack and Jill Foundation and to Homeless Period Ireland.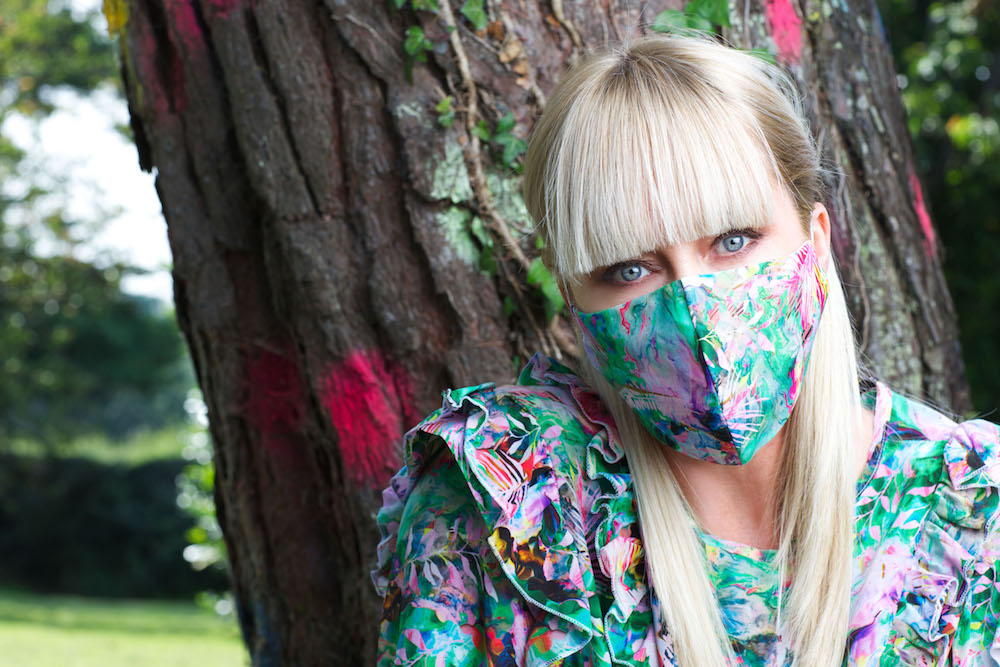 It's one of those strange things about life, how out of surreal times, lovely things can happen. As consumers in general, we are all more appreciative of our homegrown brands. We spotted that as part of the Made Local campaign, ambassador Amy Huberman wore one of your dresses.
Yes, it was amazing. The dress she wore sold out in four days. It was just the power of Amy, which is incredible. And it's also great to have someone who is so lovely and such a good person wear your stuff and promoting Irish design. She could wear any designer she wanted but she does really support Irish design so hats off to her. The Made Local campaign with the Design and Crafts Council of Ireland is an amazing initiative to see.
Sustainable style is the way forward!
Yes absolutely. I think a button has been switched and people are starting to realise we don't need as much stuff in our lives, which is only a good thing. For me, everything that I produce is made here in Ireland and sixty-five per cent of my own collection is made from recycled fabrics. And I want, over the next couple of years, to get that to 80 per cent. I think it is the only way.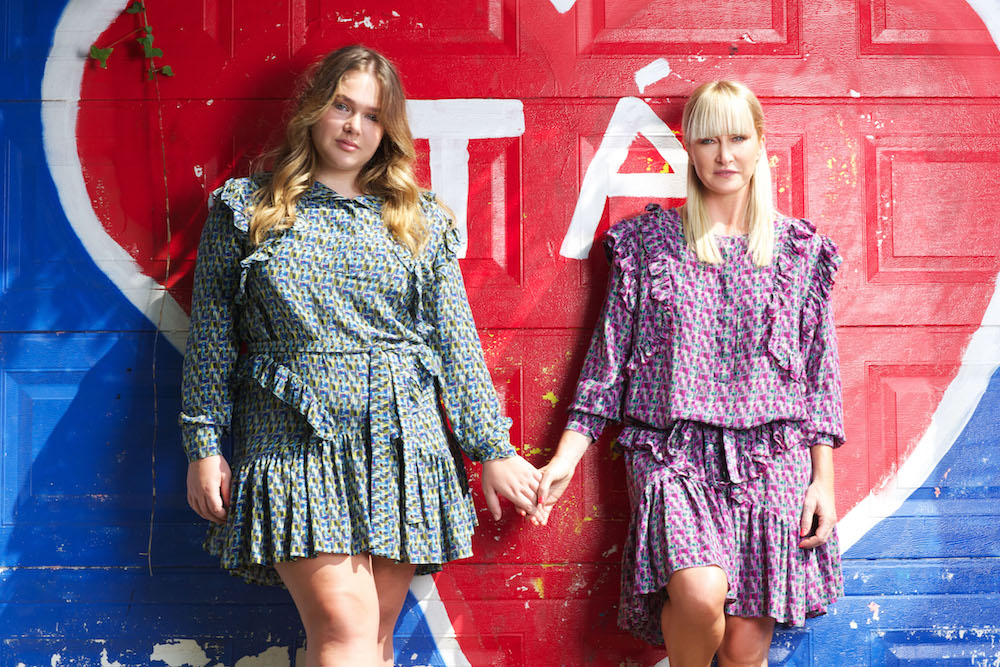 Who are the Irish brands you love to buy from?
I love jewellery designer Merle O'Grady. If you buy her crystals she will send you a little tutorial on what each crystal does for you. And she creates jewellery around that, it's just so clever, unique and thoughtful. And then I just love Natalie Coleman's work. Stable is also another amazing Irish brand. The detail that they go into is extraordinary. There are so many that I adore.
When it comes to your home, do you like to root around to source unique pieces for yourself?
[Laughs] I spend so much time creating that I don't really have time to go looking for things for myself. But, I am working on a range of interiors for Dunnes. It is all based on colour therapy and prints so there is really beautiful stuff: cushions, throws, rugs and cups. I have these white plates that I painted one day and they were kind of the inspiration behind it all!
Well, we couldn't think of a better time to do it, given we are all spending more time at home. You spent a lot of time here during lockdown with your kids. How was that?
Halle was studying for the Leaving and Ronnie for the Junior so it was really stressful at times, but I am extremely blessed, we were in the countryside and to have the time to food shop and enjoy meals with them was really nice. My other daughter Chloe is 23 and she is studying in RADA (Royal Academy of Dramatic Art). By the time they closed, Ireland was already in lockdown so she was stuck in London with her boyfriend and the cat. [laughs] But thankfully everyone is okay.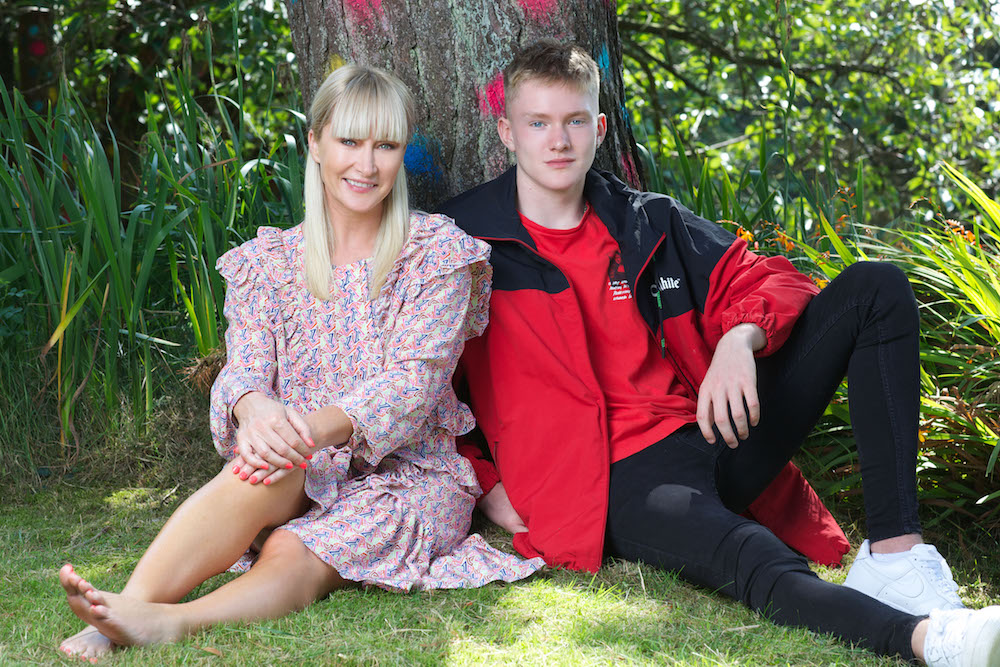 What do you do on the bad days?
I meditate first thing in the morning or at night. And then…Nutella really helps me [laughs]. And working out. But most of all, my work. Working has been this one consistent thing in my whole life. Through all the ups and downs it has just been the one thing that has been there all along so yeah, my work is my therapy.
A hugely impactful and powerful movement for 2020 has of course been the Black Lives Matter movement. As a brand, you have always been conscious to champion every iteration of a human being?
I think there has been a landslide recently. And yes, I have always liked being ethnically diverse and being diverse from a size point of view because I just think it's the only way forward. Otherwise, it wouldn't be a proper reflection of Ireland or who we are.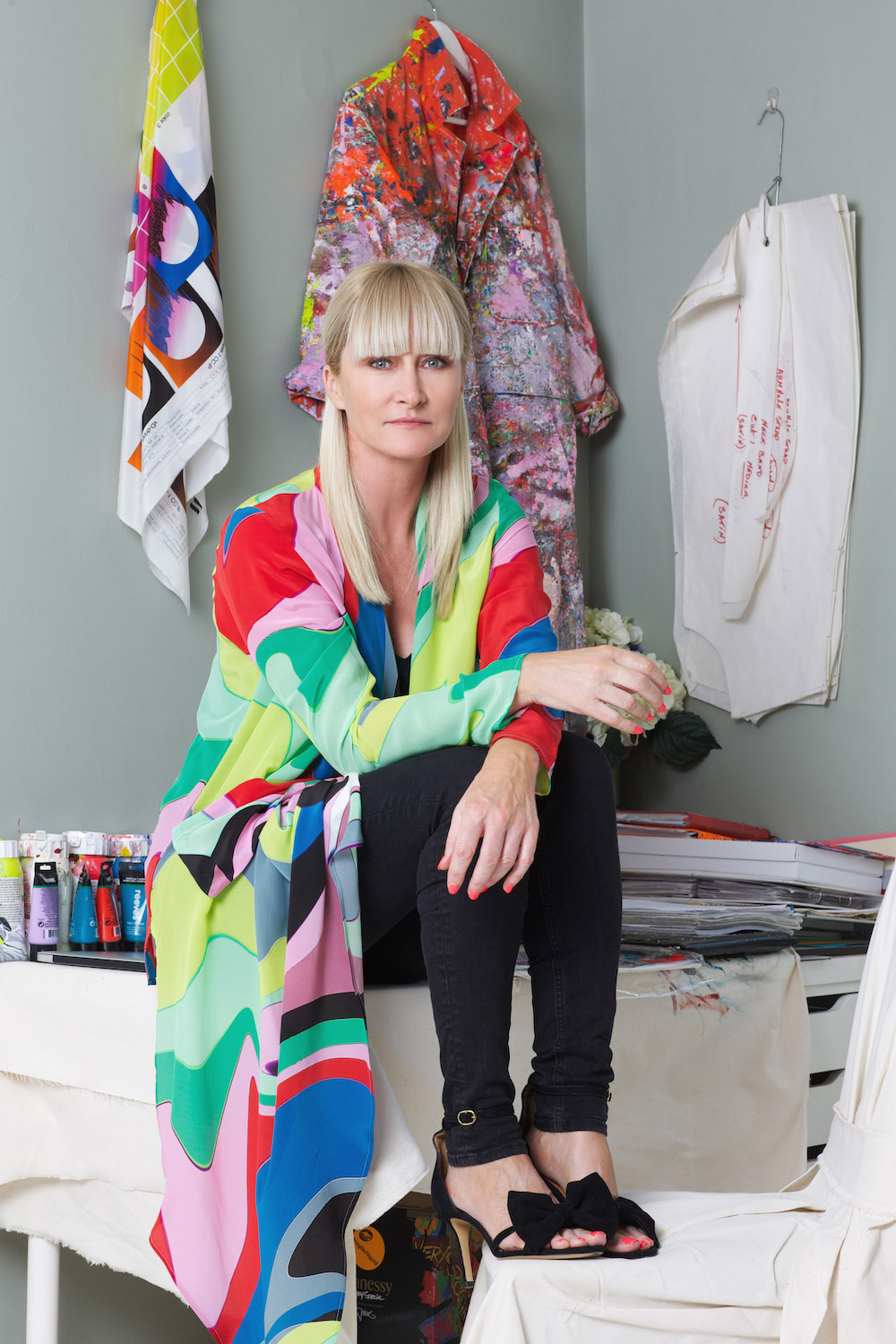 We agree! When it comes to the future of the fashion industry…how do you envision it navigating what has been a very difficult time for so many?
I think we just have to keep evolving and adapting. Last November I started selling my pieces with a company into Australia, New Zealand and South Africa. I was in Australia to launch it and remember waking up in the middle of the night in Sydney and thinking there was a fire in my hotel room but it was the bush fires. It was really scary, so from a natural disaster to covid, it's been quite a time. Who knows what the future will bring? All you can do is prepare, adapt and just be authentic to yourself.
What are you looking forward to now?
I am excited to see how Halle does in the Leaving Cert. She is hoping to study New Media Studies. Then to see Ronnie start in his new school. On a work note, I am looking forward to my interiors collection launch and the colour therapy collection. And, of course, the big activewear drop in January is going to be a whopper – it is what I have been eating, living sleeping and breathing for the last few months so to see it finally come into stores and see people wearing it will be incredible. This is what I used to dream of years ago and now it is a reality and I am so thankful for that every single day.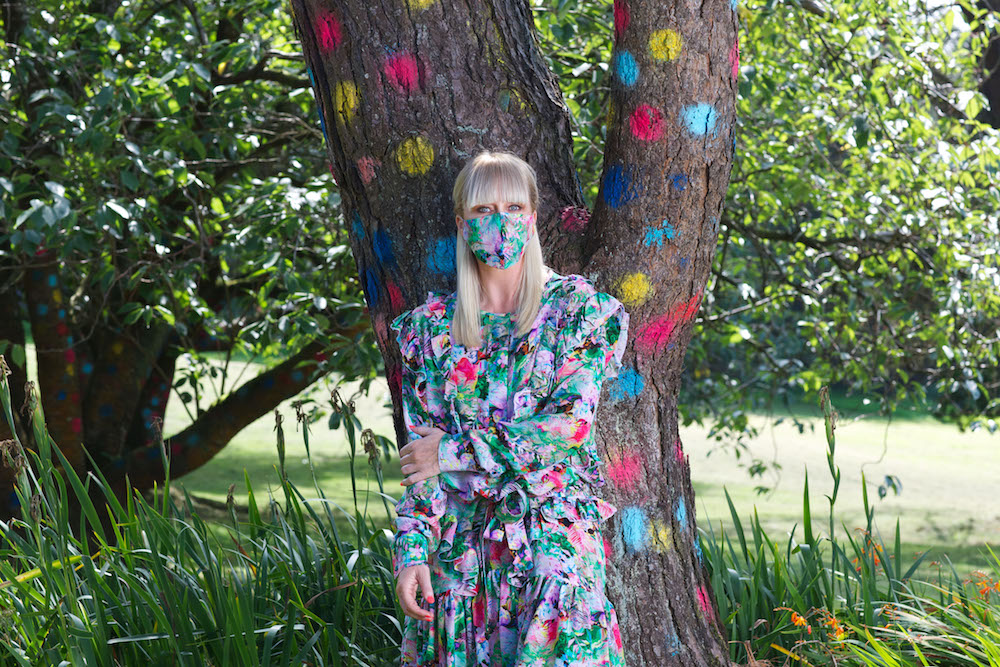 Interview: Elle Gordon
Photography: Emily Quinn, emilyquinn.com
Makeup: Leonard Daly @leonarddaly
Helen styled herself and Halley in her own collections throughout. Find them at Costume Dublin; costume.ie or on helensteele.com. For her activewear collection at Dunnes Stores; dunnesstores.com.