*Spoilers ahead*
Derry Girls fans have shared their wish for a Derry Girls prequel to be produced.
It comes as last night's episode focused on Ma Mary and Aunty Sarah as teens in the 1970s. The special episode showed Ma Mary and Aunt Sarah preparing for their secondary school reunion with flashbacks showing on screen from their 'Leaver's Night' in 1977, with some shocking information emerging from their past.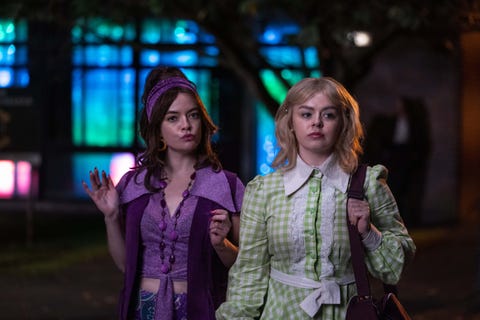 While the episode was cleverly thought out and hilarious in equal measure, fans were quick to praise Lisa McGee's writing.
In fact, people were so impressed with the episode that now many are hoping for a prequel series.
Taking to twitter, here's what some people had to say:
Were sooo need a prequel series of Derry girls fantastic episode last night we need to see more @LisaMMcGee ♥️🏳️‍🌈🌈🙏 https://t.co/mw1JST2Xts

— craigybaby42 (@craigybaby42) May 11, 2022
I want a Derry Girls 1977 SERIES. I love them. Time for a prequel/origin story. #DerryGirls 💀x

— Caitlin 💙🇺🇦 (@grimbletweets) May 10, 2022
I would very much like a derry girls spin off with a prequel series of what their mums got up to when they were teens

— n♡ (@nawaltalks) May 10, 2022
To give us this episode without committing to a full prequel series is just twisting the knife with only one episode left. 😩 #DerryGirls pic.twitter.com/5j3O6n3nZG

— herichards (@hellizzie) May 10, 2022
As for whether or not we will actually be getting a prequel is yet to be confirmed or denied. In the meantime, fans are gearing up for the final episode of the show airing next Tuesday.