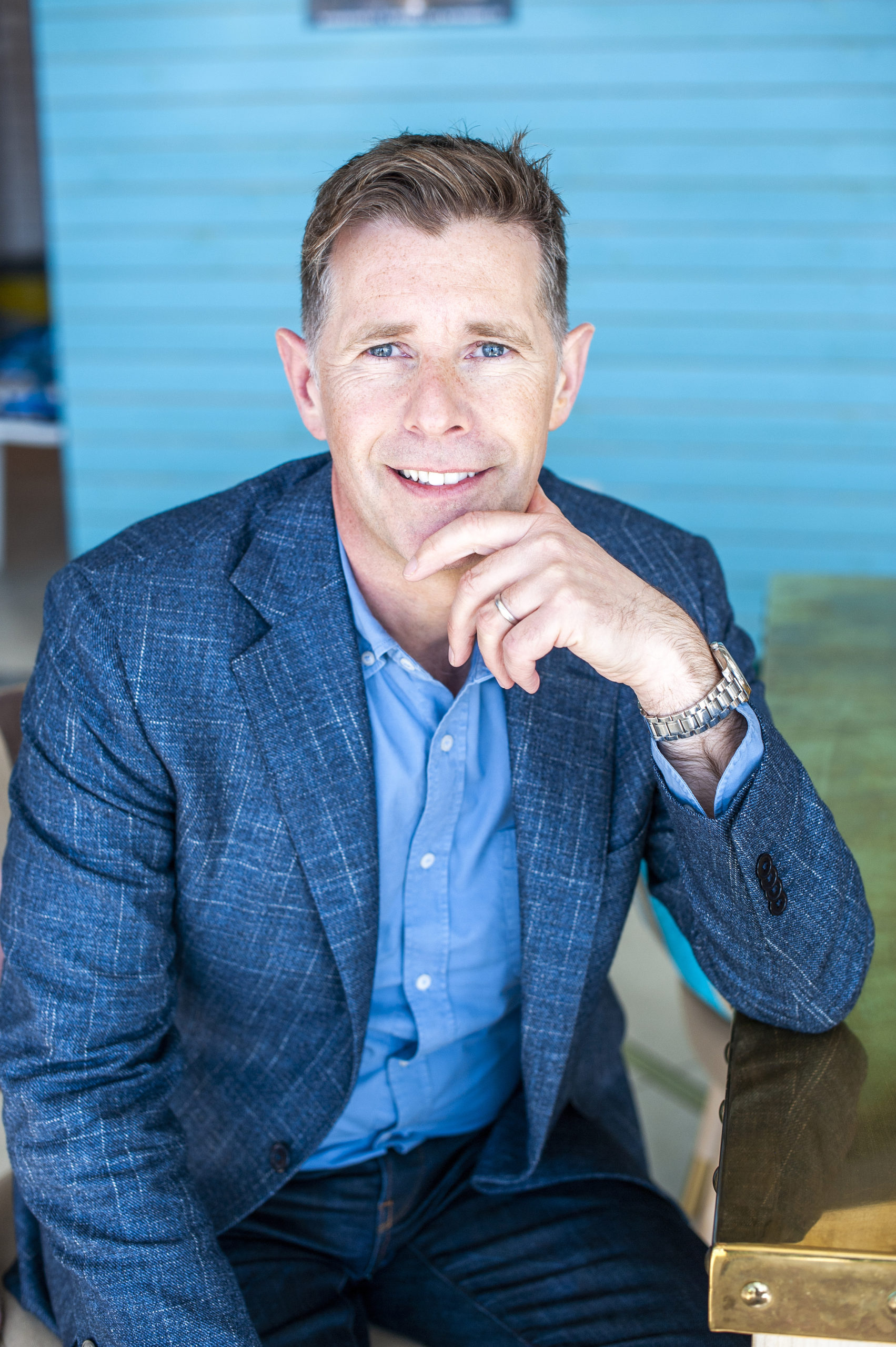 Dermot Bannon loves his job with a passion. He loves designing homes, he loves meeting the people. But the pressure of maintaining his massive ratings can, sometimes, he tells us, be a lot to handle. In this exclusive interview, the father-of-three (Sarah is 14, James, 11, Tom, 7) opens up about that pressure, talks about self doubt and tells us about his next personal project: to slow down, to take life back and to live it fuller. The best design for life, indeed.
Twelve seasons of Room To Improve, Dermot – does it ever get old; do you ever get bored?
I don't ever get bored because it's what I do. If I gave up Room To Improve tomorrow, I'd be going back to the exact same thing. This is the day job, and I love it, but I have to admit that the tv end of it can be hard going.
How exactly? The juggle of tv along with the day job?
No, more so the attention!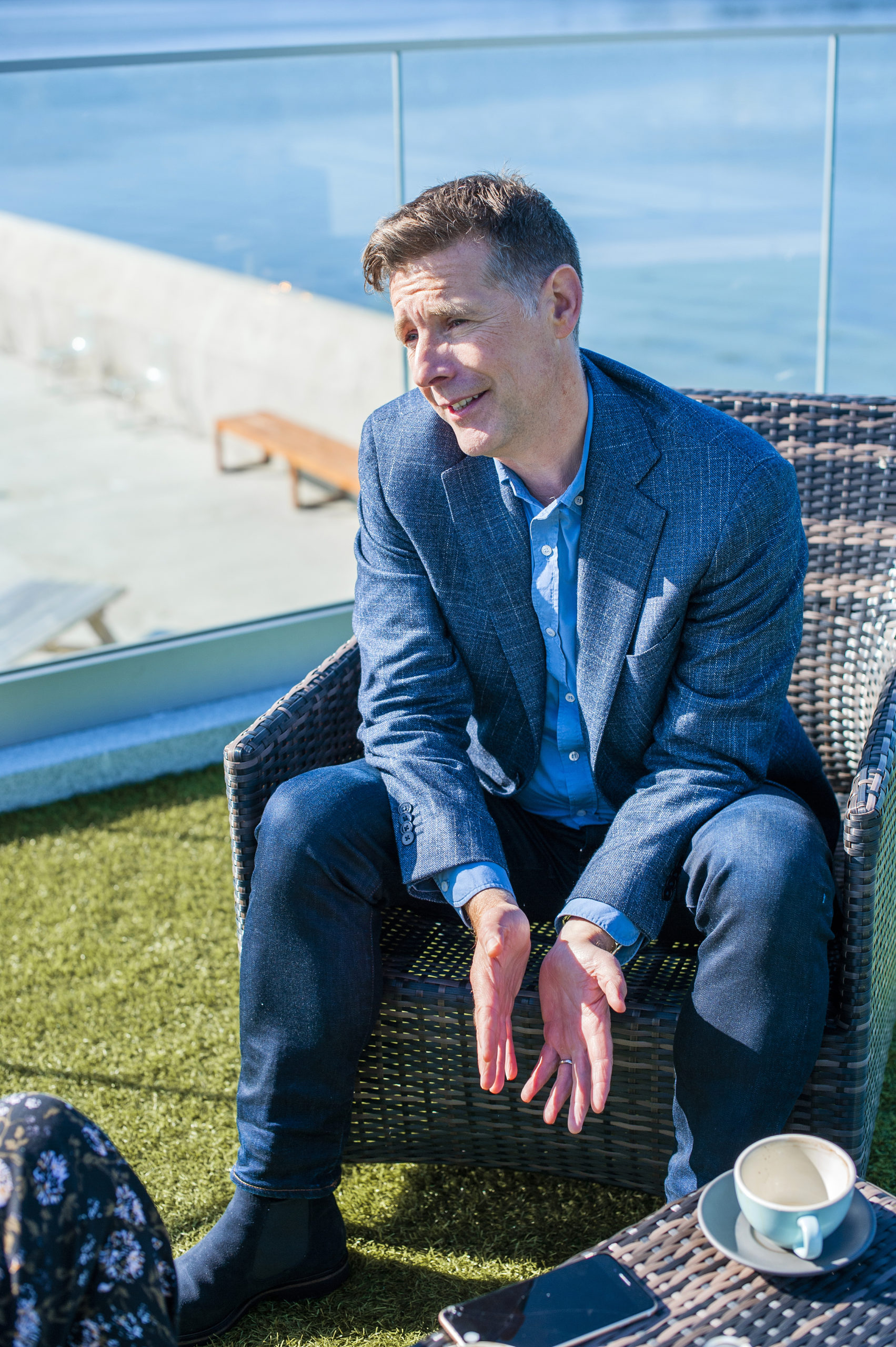 The attention? Do you not love the attention? You are such a social fella!
A lot of people do tv because they love the attention; they love the buzz of it; they love th high adrenaline industry that it is. But for me, it's 11 months in the office, or filming, and then for one month of the year it's me on air, full-on and I dread that month [laughs]. I love making the programme; I love doing the designs; I love meeting the people but then suddenly it's on air and I'm everywhere! Of course, I know, you can't have one without the other. But I just wish no one saw it!
Really? You know if it all went tomorrow, you'd miss it…
Apparently I would, as I've been told!
Who told you so?
I did a job for broadcaster and musician Aonghus McAnally years ago and he said, "Dermot, you hate the limelight but when it goes you hate it more." And it always stuck with me. It opens doors for sure. I can go anywhere in the country and people will give me a nod and I love all that because I love meeting people, I really do. I think it's just the hype of it all…maybe it's just the pressure because you're expected to deliver year-on-year as Room to Improve is a big show now.
Maybe you feel under pressure to deliver because of your own exacting standards?
Maybe…I just wish it was on Wednesday night and we'd have half the viewers and it'd be grand; just a regular job! [Laughs] Of course when you get good ratings it is euphoric but you try not to ride on that crest because you are only as good as your last job. It is a creative industry being an architect, and you are baring your soul each week. You also have to deliver a good building, a good show and get good ratings in a 9.30pm slot. Sometimes I wish I could go and hide under a rock!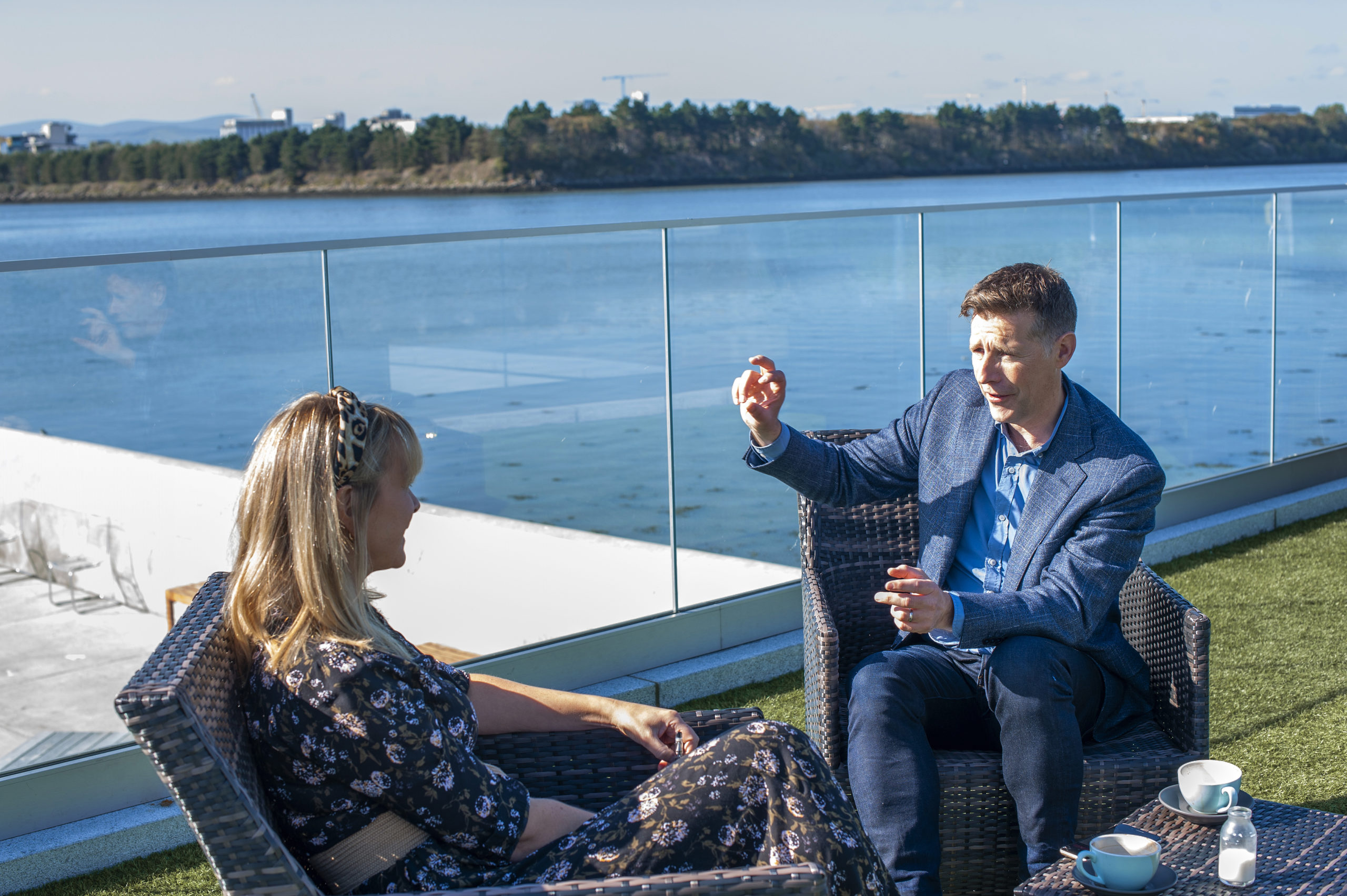 Sharing a bit of the burden with super gardener Diarmuid Gavin for an episode this series must have been nice, then?
It was brilliant to have somebody because if you look at the big hitters on RTE, the likes of Fittest Family for example, they have four or five people out front of house. There's very few shows where it's only one person. So just to have somebody else, even to go on The Late Late Show with, was great. And of course, Diarmuid is quite brilliant.
"To create, one must first question everything," said famous Irish architect, furniture designer and a pioneer of the Modern Movement in architecture, Eileen Gray. Is questions where you start with any design?
Always. When I design a house, I meet with the clients and generally spend a good couple of hours chatting. I try to be like a method actor and ask them loads of questions about their life and how they live. One of the questions I ask is, 'Describe a Saturday'. People often think that I'm designing for myself, or my own ego, which freaks me out a bit, because I'm not. I'm actually doing it for them. Because I am them in their heads when I'm designing.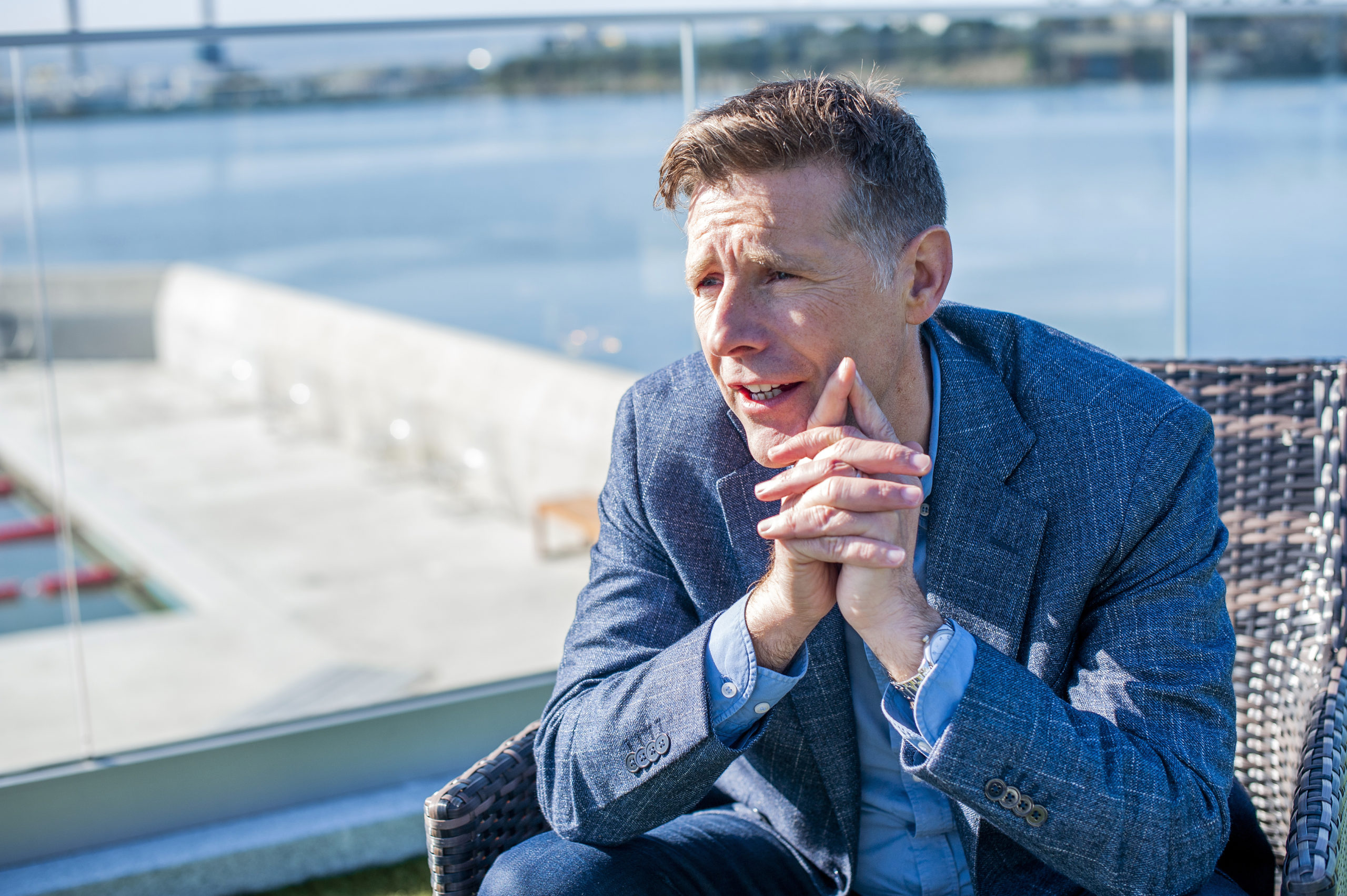 When designing your own house, finding perspective must have been a challenge. Perhaps this is why you found it so hard?
Totally because it's very difficult to go to the truth when you are so close to it. My house was horrendous to design! It really challenged me! Every little change caused me to lose so much sleep. And every change I questioned.
Who was the project manager? You or your wife, Louise?
Everything I run by Louise. She's up on site all the time. I know her backwards and I know the kids backwards; I know exactly what she wants and doesn't want and I know how we function as a family.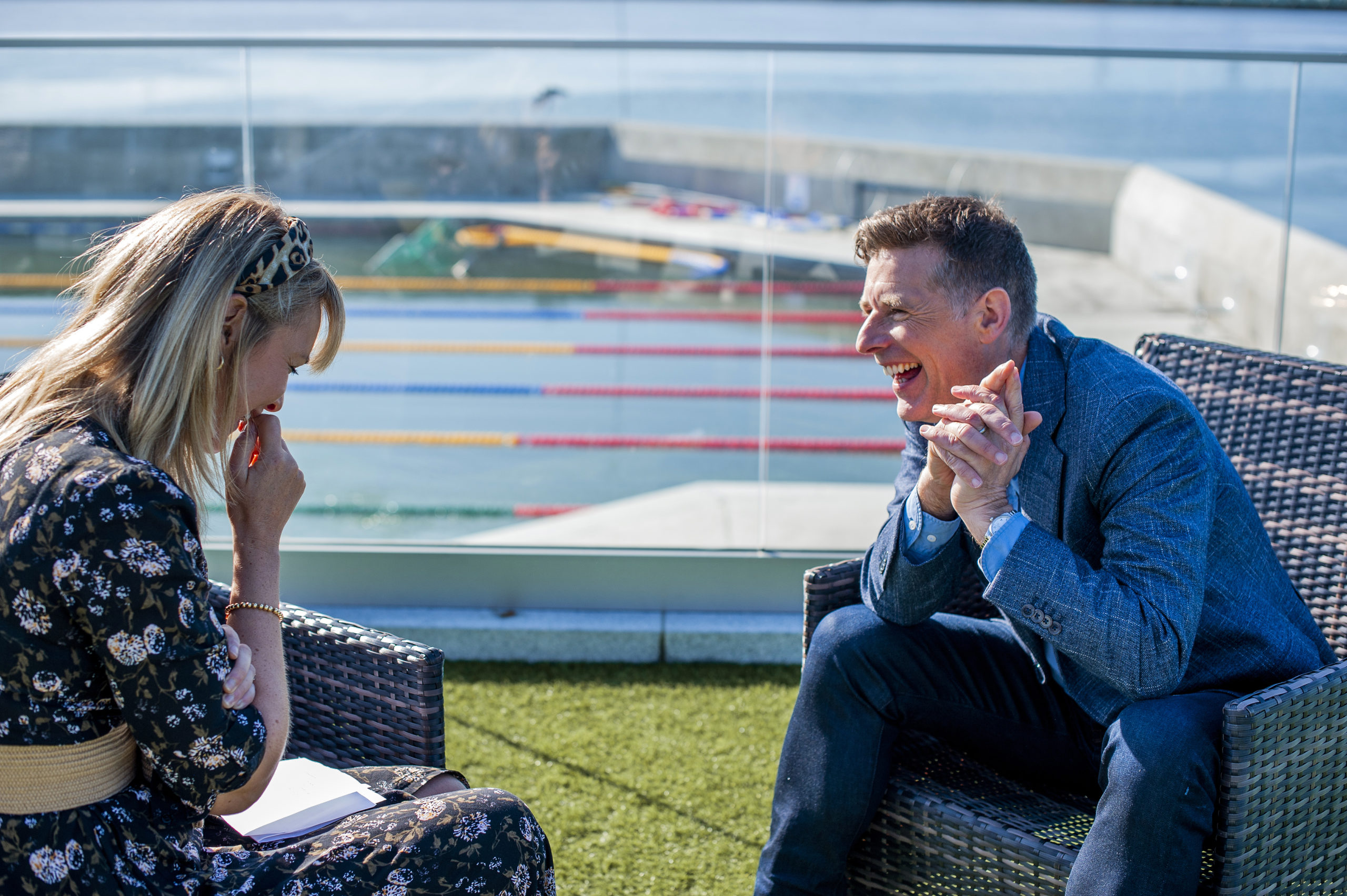 But you don't take no for an answer so how does that work when you really believe you need another big window in?!
It's really hard because at home I don't have the same patience as those conversations normally take place at the end of a very long day.
And often it's our family that gets the worst of us…
It's normally nine o'clock at night and Louise will say to me, "What about this?" and I'll just be like, "Louise, you've got to just trust me on this". And I don't give it the same patience as if she was a normal client and then, I feel bad. But then she doesn't talk to me like I'm her architect! [Laughs] She'd be like, "Now, what are you doing here?"! And I'd be like, "Really, this time of the night?"! In my head it's like, "Please don't question me, I wasn't even sure about this until a few days ago, I'm only over the line with it now, I'm just trying to trust myself. Can you trust me too?" Once I've made a decision I'm just not able to take a step back, I'm too exhausted.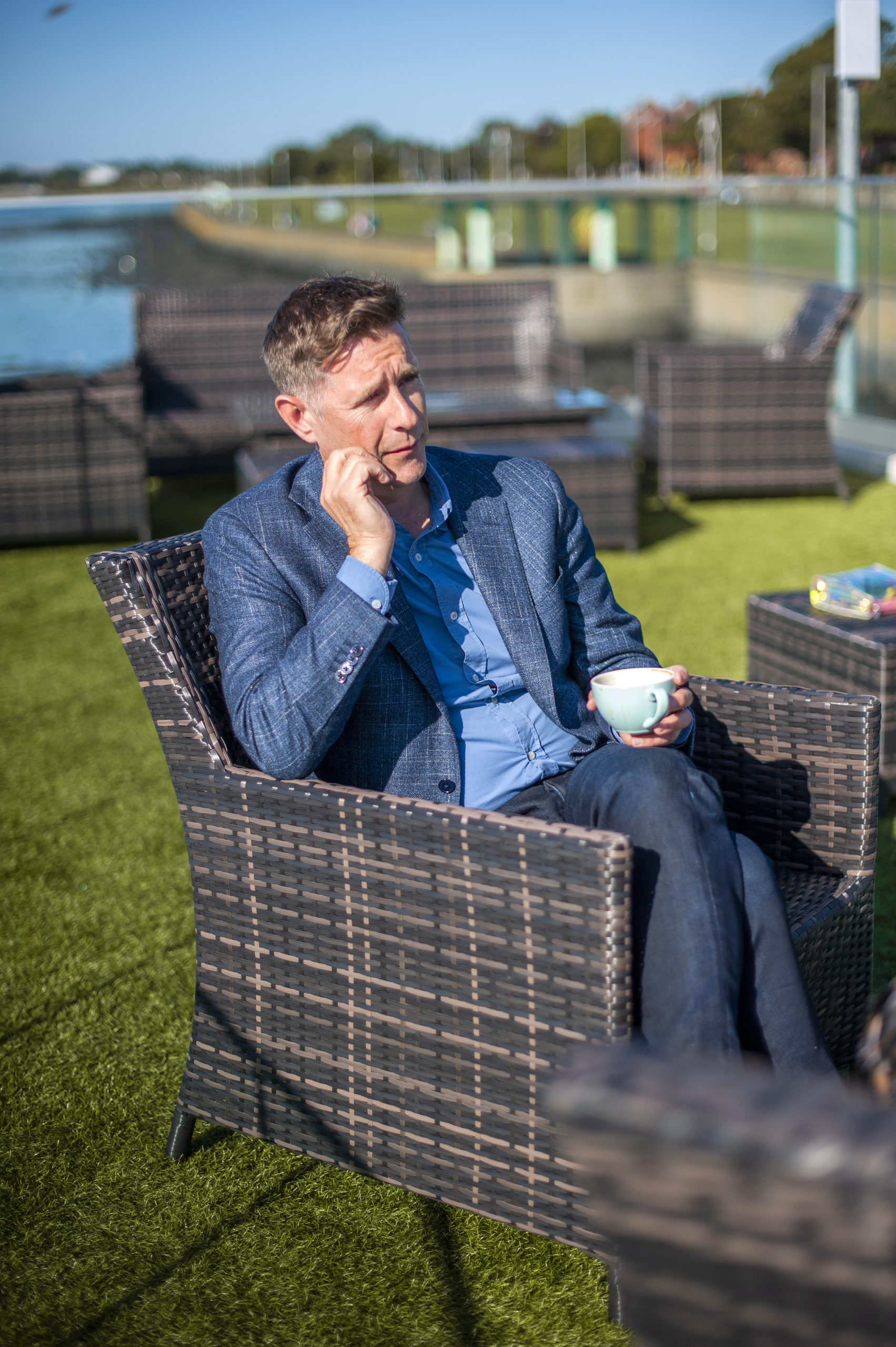 So it's true, a house move or a house re-do is one of the most stressful things to do!
It has been [laughs]! We moved out of our house in August 2018, I'd originally told Louise it would be February 2019, and we're still about four weeks away [head in hands]. But at end of the day it is just a house.
It's far from "just a house". It's a Dermot Bannon special!
Well, we've a big kitchen now and lots of storage. In our last house we used to end up with nine school bags on the floor even though we only have three kids! We have a cosy sitting room at the front so that's going to be the teenagers room; we've got a room upstairs which is a den for the boys, but it's a double height space so it's connected to the kitchen so you can look over the balcony and, I have a vision of that in years becoming my artstudio. I've designed the house so that it can change with the kids.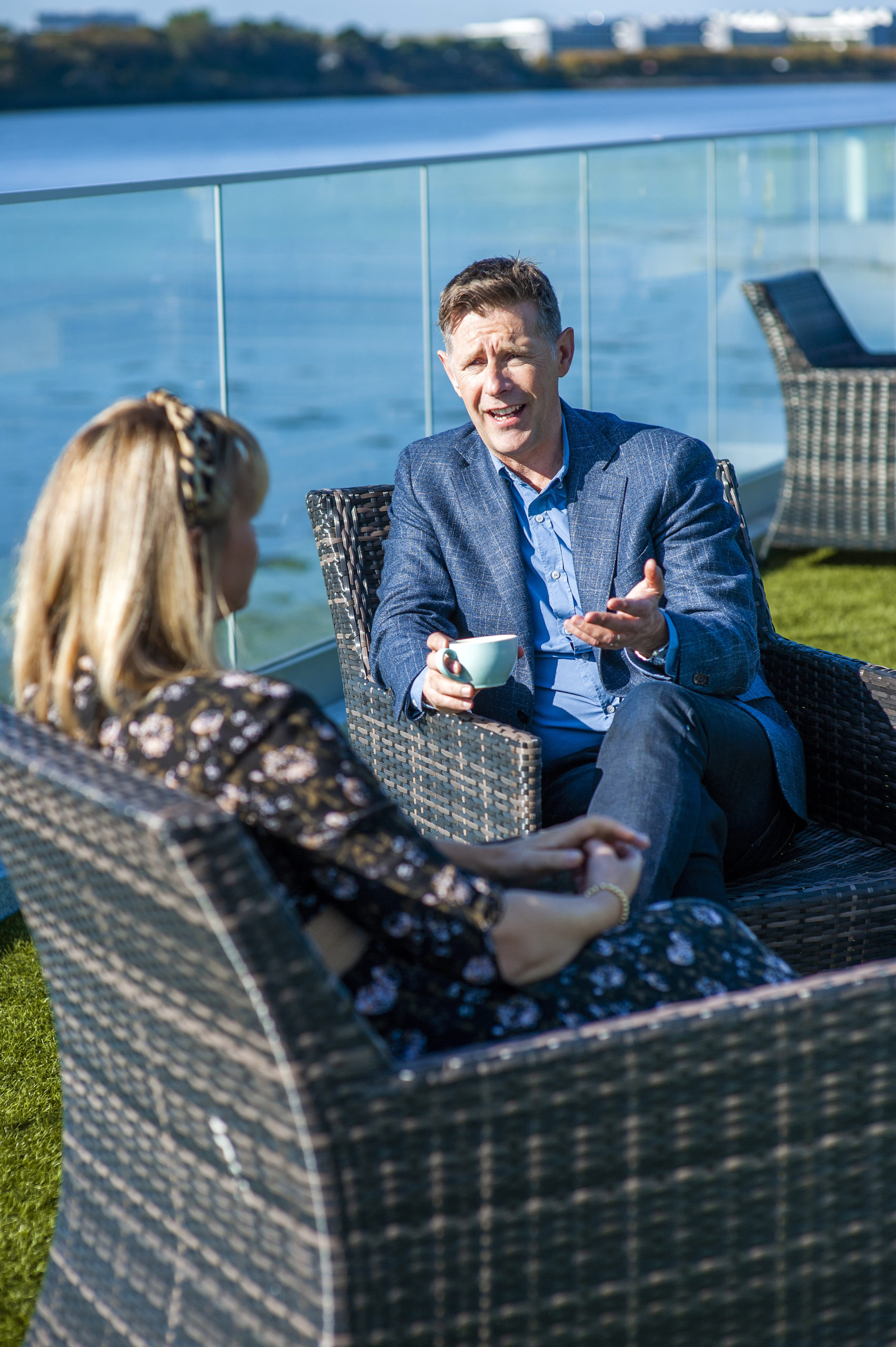 You say the whole process along with balancing work has had you in permanent meltdown mode. What do you do that helps when feeling like that?
Routine. I'm a really routined person. Even when I'm exhausted in the morning I'll do my two boiled eggs and porridge, I'll iron my shirt and by the time I get to the shirt, I'm awake. Routine is the only thing I have learnt that keeps me grounded. Dragging yourself out of bed to do routine things. And then you enjoy them when you're doing them.
Dermot, there's a lot of love for you out there. The general public are very fond of you – how does Louise feel about that?
I don't know…Louise is incredibly private. I've never discussed that with her, I've never asked her how she feels about the attention I get. But we don't go out that much.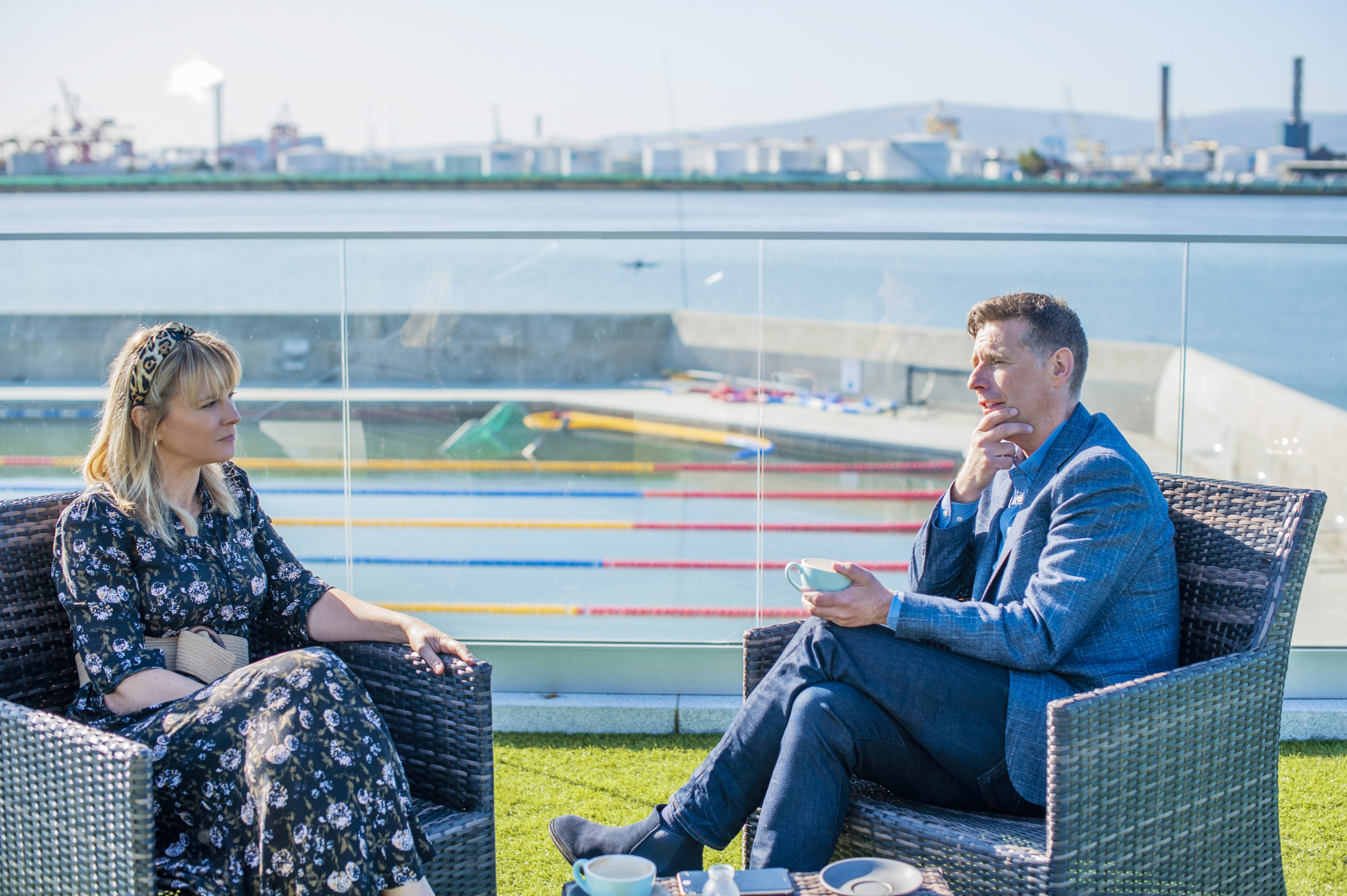 Once a month?
I'd say three times a year [laughs].
Ah, Dermot!
We're that busy, the kids have sports on Saturday and Sunday mornings. We're exhausted! With Room to Improve and Dermot Bannon's Incredible Homes (which begins filming in January) and the house, this year has been the worst when it comes to being busy. When all this is over I am going to take a really hard look at my life. I need to strike a balance between work and down-time. I find it hard to say no to work for fear it won't be there and it's made me lack spontaneity.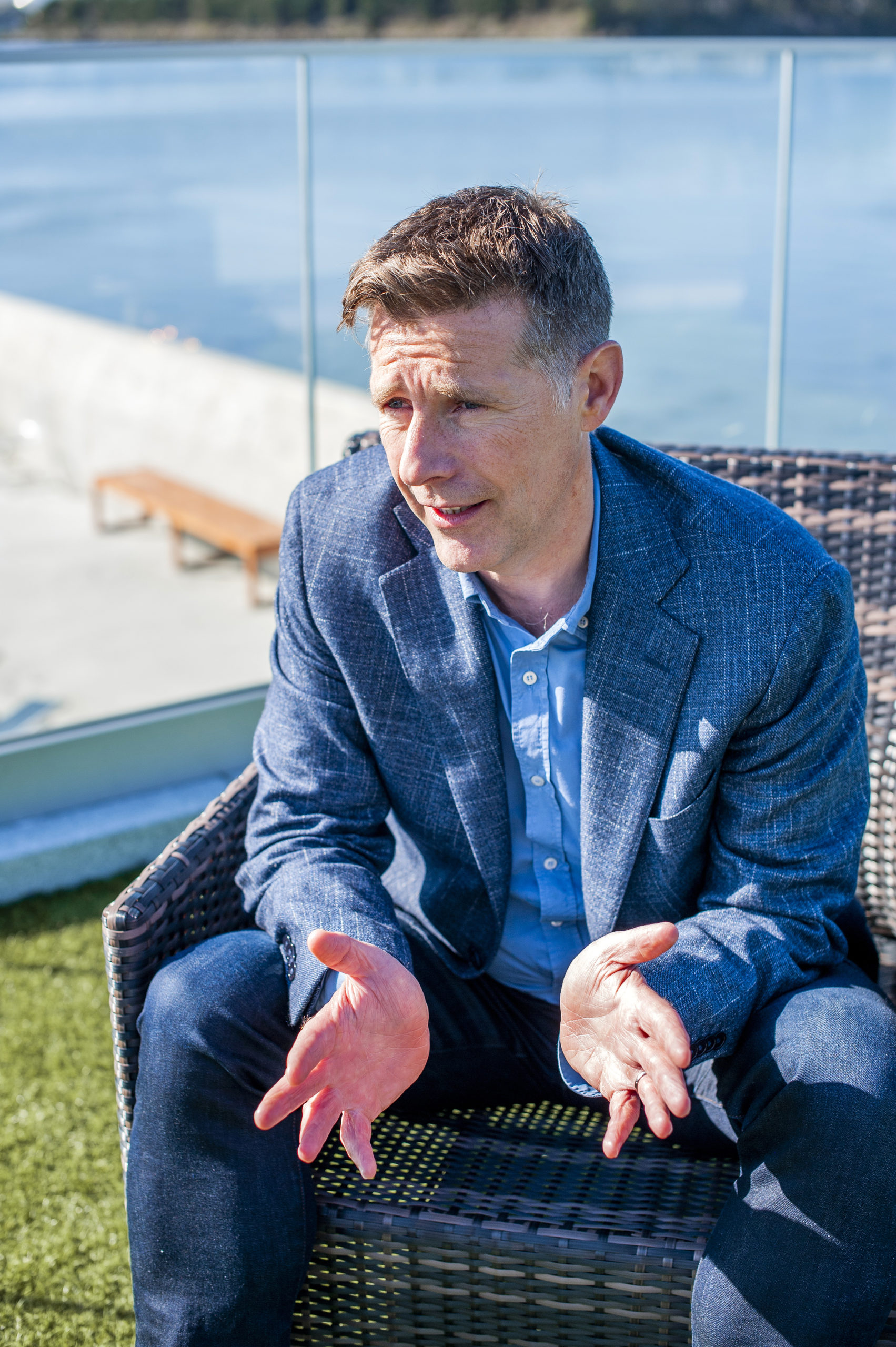 You have made some changes in your life already though.
I've started to go to the gym at 6.30am, also walk in the evening and sea swim with the kids at the weekends. I'm trying to make time to enjoy myself because I am not very good at it.
Many of us are like that – stuck in the busy rut.
But has it become busy or do we make it busy? We plan and we prep for everything: school, sport, work. But do we plan and prep for actually enjoying ourselves? We don't do that. We never put the same importance on having a bit of a laugh with our friends. That's my next mission. Live a little!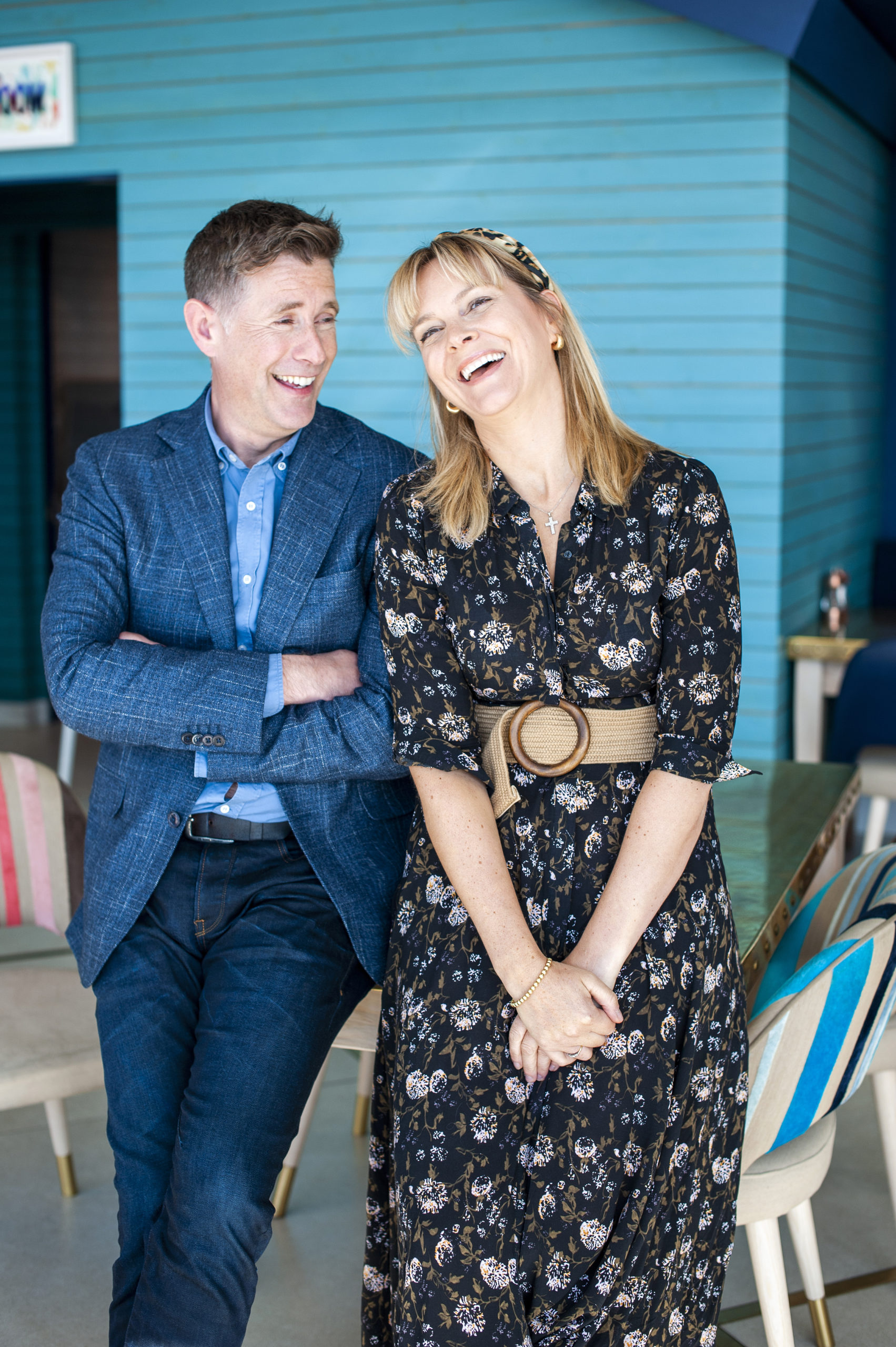 INTERVIEW: Bianca Luykx PHOTOGRAPHY: Lili Forberg; misslili.net
Shot on location at The Baths, Dublin 13; thebaths.ie