Does your home need to be rescued? Does order need to be put on the disorder? Does chaos need to be curtailed?
Interior designer Dee Coleman, co-presenter on the RTÉ series Home Rescue: the Big Fix, is on a mission to transform disorganized homes.
We asked for her help…
Hey Dee! Transforming six ordinary, disorderly homes is the brief for RTÉ's Home Rescue: The Big Fix. Where do you start?
I always start with the homeowners – to be a good designer you have to enjoy getting to know people, the way they live and how they will live in the future. To get a house to function well, there needs to be somewhere for everyone's stuff. If even one family member is left out, then chaos can begin very easily. Just think about the dog crate that ends up pride of place in the middle of the kitchen floor! The starting
point for good design is functionality.
Decluttering is the holy grail. How do you do it in your own home?
I'm actually pretty ruthless with my own stuff. I put everything to the William Morris test: "Have nothing in your house that you do not know
to be beautiful or believe to be useful." I have also found over the years that if I try to sort the whole house it's just too overwhelming. I tend to tackle a couple of drawers or a cupboard in one go. It's much more satisfying as I can mentally tick that box off my list. Now, this policy does not translate to our playroom or my girls' bedrooms. I have one really messy child, which is a challenge – the mess, not the child! – and I've had to accept that her room is never going to be the way I would like it to be!
Give us four affordable storage fixes:
1. Decluttering is the starting point – there's no point building storage capacity for stuff you don't need! And make sure everything is in the room that it should be in.
2. After you have decluttered, categorise your stuff:
• What should be on display
• What needs to be hidden
• Anything you need easy access to, for example TV remote controls and keys
3. Then review where you store things with a critical eye. People often just buy more furniture to sort clutter. I sometimes find that people have too much furniture and too many disjointed storage units, none of which do the job properly. Get rid of furniture that isn't doing what it should be doing, for example, books in a chest of drawers.
4. Now you know what storage you are missing you can set about either re-purposing a storage unit from another room or budget permitting, buying something vintage or flat-packed which will do the job. If you are stuck with higgeldy piggeldy storage units that look disconnected, painting them all the same colour and then maybe even painting the wall behind them the same colour, is a really effective way to give a unified look and a calm feeling to a space.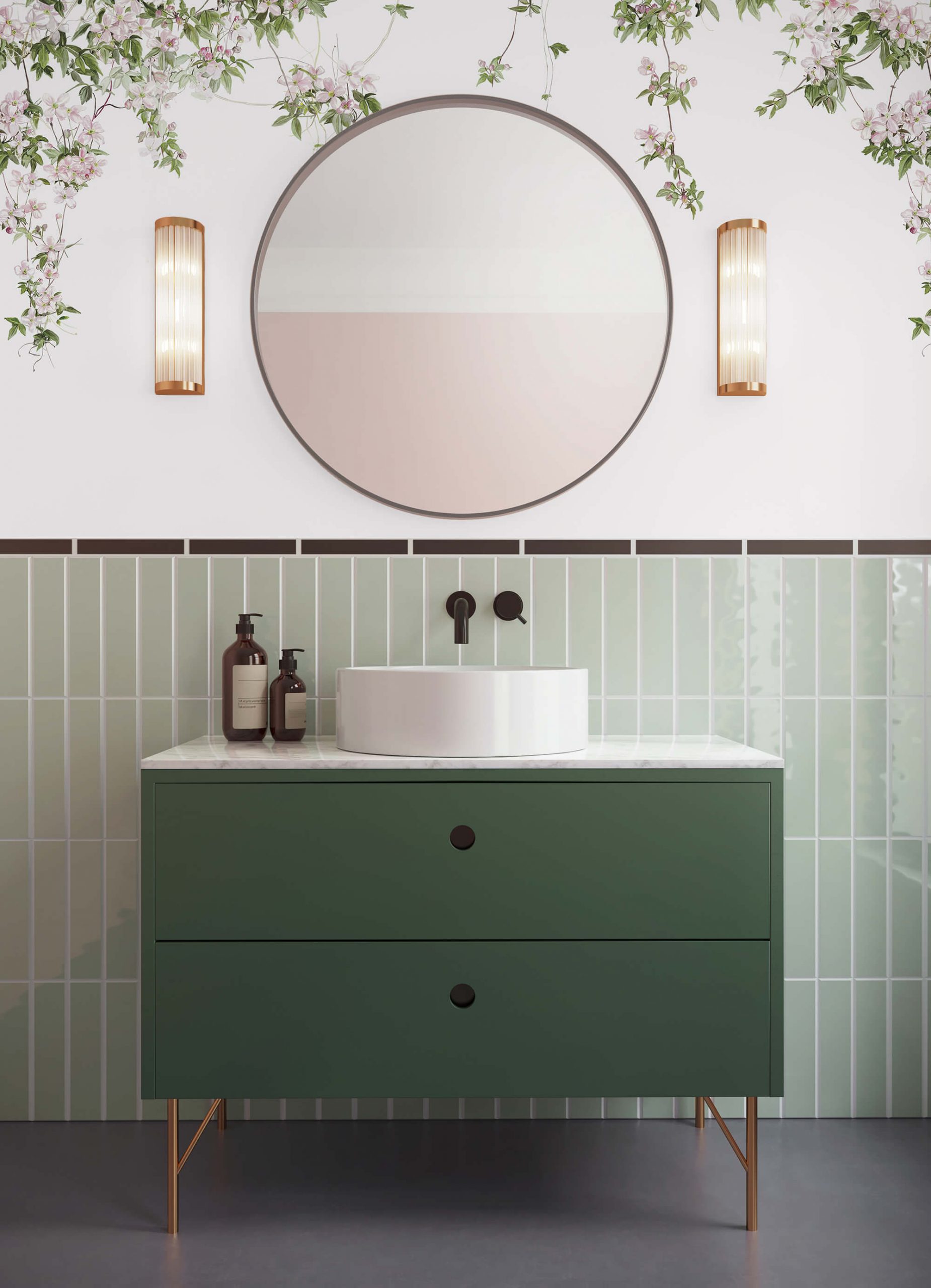 We need a summer refresh, what's the best way to achieve this?
New paint! Nothing will change how a room looks and feels like a new paint colour. Consider the woodwork and ceiling as part of that conversation too. If you can muster the enthusiasm to do the work yourself painting a room is a very cost-effective way of creating big impact.
Wood floor, carpet or tile?
If money was no object for me, I would have a hardwood-engineered wooden floorboard with large area rugs in each room, except the bathrooms and kitchen which would be tiled.
Paint or wallpaper?
Wallpaper adds instant character and personality as well as texture. One of my favourite ways to use wallpaper is on all walls
in a smaller room, like a bathroom. This is a perfect space to go crazy – you're not spending huge amounts of time in the space, it
can be great fun and a conversation starter. I love a little drama in a downstairs loo!
What's your favourite household gadget?
My lettuce dryer! I thought they were ridiculous until I got one. No more soggy tea towels!
What could you not live without in your own home?
A hand-held clothes steamer. I don't iron much but some clothes really do need a bit more love, so I have a hand-held steamer which is a lifesaver!
As an interior designer, what colours do you tend to lean towards most?
I love colour. At the moment I have a thing for blue and green and their complementary colours, orange and yellow. But it's a bit like asking me to choose between my children.
What's your favourite room at home and why?
My bedroom – it really is my sanctuary. It is the only room that looks how I want it to look. The children are not allowed to have their stuff in it. Everywhere else is a family space…with all that that entails.
What do you not have at home yet but desperately want?
A boiling water tap!
If you could redesign your own home all over again, what would you change?
Funnily enough, I am just in the middle of a major refurbishment and extension on my own house, so ask me in a couple of years! I'm hoping nothing! I've had more years than anticipated to figure it out, so I really hope I get the bones of it right. Sadly because of the rise in costs we had to cut the scope of the job. I took a few things out that I have now put back in because I think I'd live to regret it later. I've always envisaged a window seat adjacent to the kitchen island. I have such a clear picture of my girls sitting there chatting to me while I cook, or me sitting there with a cup of coffee. I took it out to try to save money but have just put it back in. It may mean that we have to reuse really ancient kitchen appliances and have a makeshift kitchen for a while, but for me it's really important that I get the things now, that I can't change at a later date.