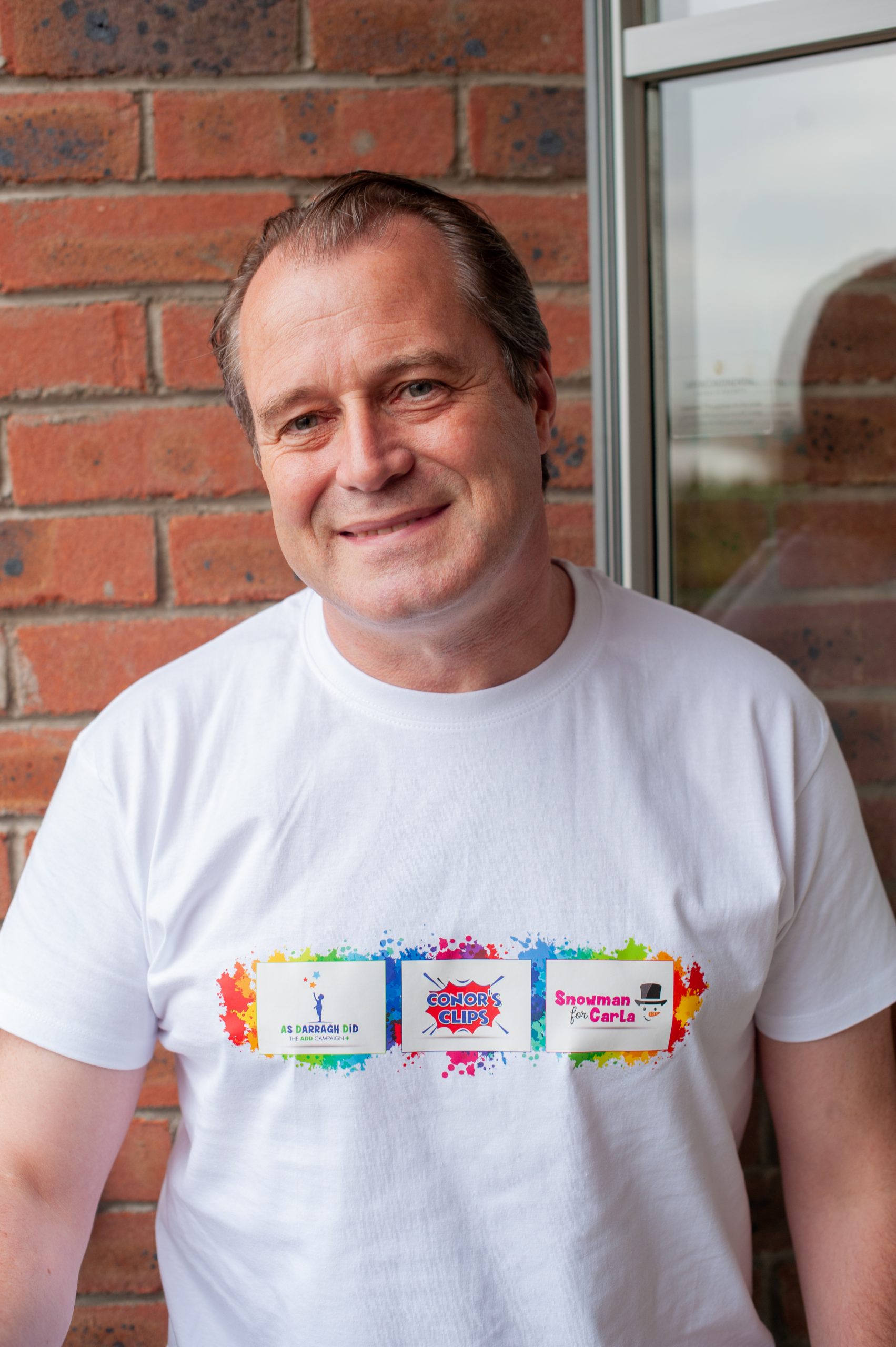 What do you say to a father whose heart has been wrenched out, who's world imploded on January 24 2020 when his three children, Conor (9), Darragh (7) and Carla (3) were killed in their home by their mum who, at the time, was suffering from delusional psychosis (at a trial in the Central Criminal Court last June Deirdre Morley was found not guilty of murder by reasons of insanity)? Where do you start? Not with chit chat anyway. When little matters, you focus on the little things that do.
Keeping Conor, Darragh and Carla's legacy alive through the three charities Andrew has set up – one for each child – is the only thing that is keeping this man going. He visibly brightens when he talks about his "three peas in a pod". The smiles you see in some of these pictures are simply when he's talking about the things they did and the way they were. He says he's trying to find moments of joy and that he is now in a constant pursuit of happiness. But it's all just so sad, and not just for Andrew, but for his family and friends too who are doing everything they can to support him. Even for our photographer Lili Forberg who today is symbolising the country's collective grief as she quietly sobs behind her mask. Our hearts all broke the day that news broke. Theirs wasn't a simple death and this isn't a simple story. But it's story that needs to be heard so history doesn't repeat.
It is everybody's worst nightmare, Andrew. But for you it's a daily nightmare. Waking up each morning…how do you even get out of bed?
I set my alarm clock for seven, I try to keep a routine, but it's like getting hit by a sledgehammer every single morning. It's a blow every morning, every day without exception. But, you have to recover and it's the projects that I'm doing that help. At least I'm doing something, but I can't imagine how it's impacted Dee…I can't even imagine how her day starts (his voice cracks, he pauses)… if I don't talk about it nothing will change and it will all feel pointless. People write to me who have been in similar situations and they express regret that they didn't talk.
Talking, campaigning and running these charities is how you cope…it's your therapy.
Oh yeah, what's the alternative? But we all cope in different ways… I am struggling but I think I'm coping. Sometimes I feel like I was plunged into an ocean and for the first year I was thrashing around trying to find my bearings. I don't even remember stuff I said then. I think I then learnt to float, it's the only way I can describe it. I processed it on some level…now I'm in the ocean but there's no point thrashing about.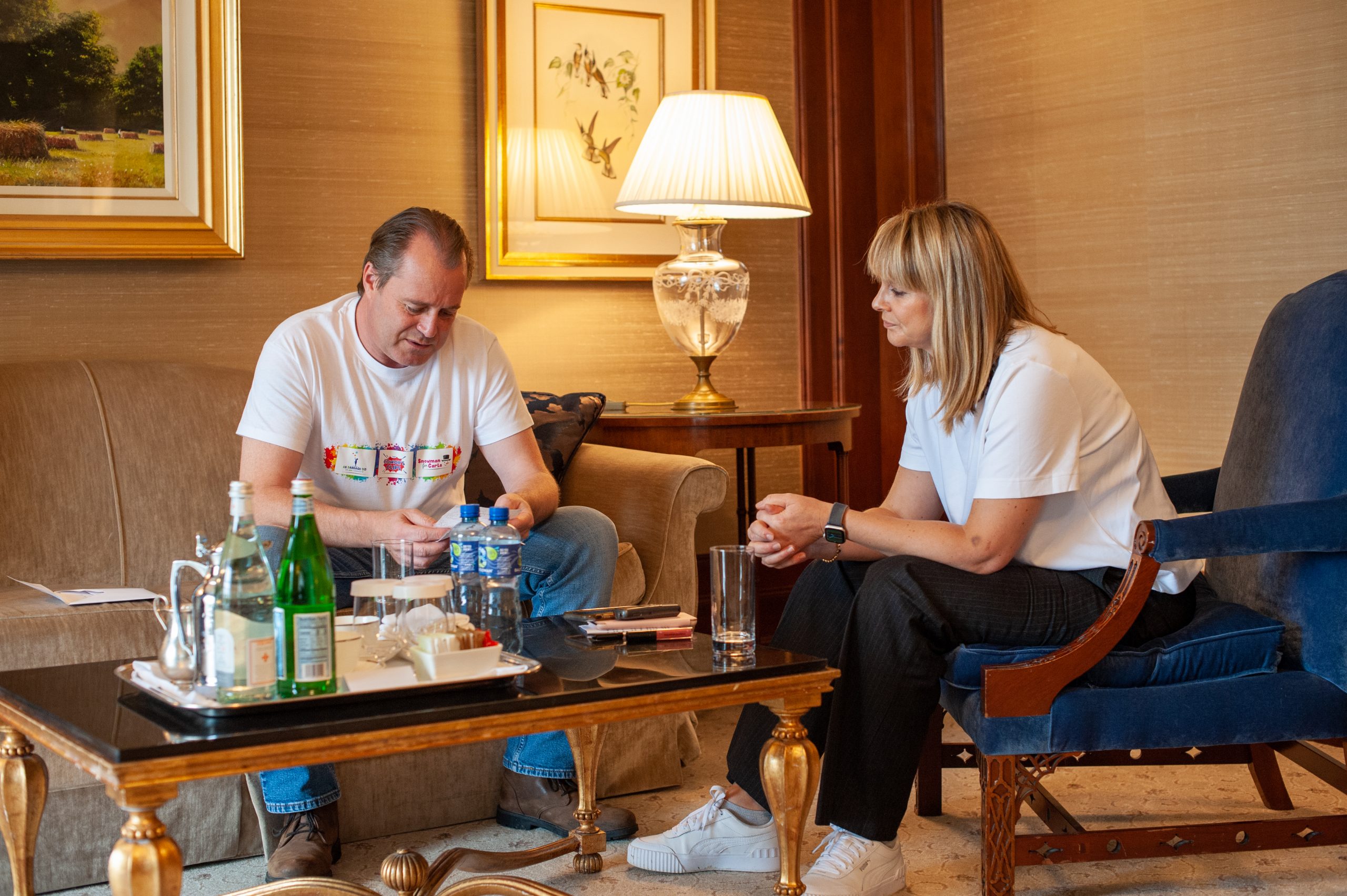 So do you feel not quite present?
There's days I'll sit down to write an email and an hour later I could still be sitting there looking at a blank screen. But then there are other days I'm very busy…you can't be harsh on yourself.
You talked about that awful absent feeling the first Father's Day without the kids. You spent it with your friends, watching football, you ordered takeout, had a few beers…
Yeah, it was the worst day. I was not there…
It must be hard for your friends to know what to do, to know what to say…what can they say?
My friends have been brilliant. Three weeks after the kids died I went back to playing football (he wells up) I remember feeling very overwhelmed as I walked out and on to the pitch. I was in tears and all the lads were there and they were like, are you alright, and I was just like, just kick off, just kick off, so they all completely ignored me until afterwards and then they were over giving me hugs…the guys I play football with have been absolutely brilliant. They'd come out and stay with me for nights, covid then hit and then there was some undercover manoeuvres to make sure I was alright! And my family as well have been so good.
How many brothers and sisters do you have?
I have one sister and two brothers. I am the second eldest.
How are your mum and dad doing?
Mum is quite ill at the moment; she has Alzheimers and I think is probably in the last stages. She knows that the kids are (he pauses) dead but I suppose she can't articulate how she feels…it's tough but I think in one way there was a bit of mercy in that she wasn't entirely aware with the trial.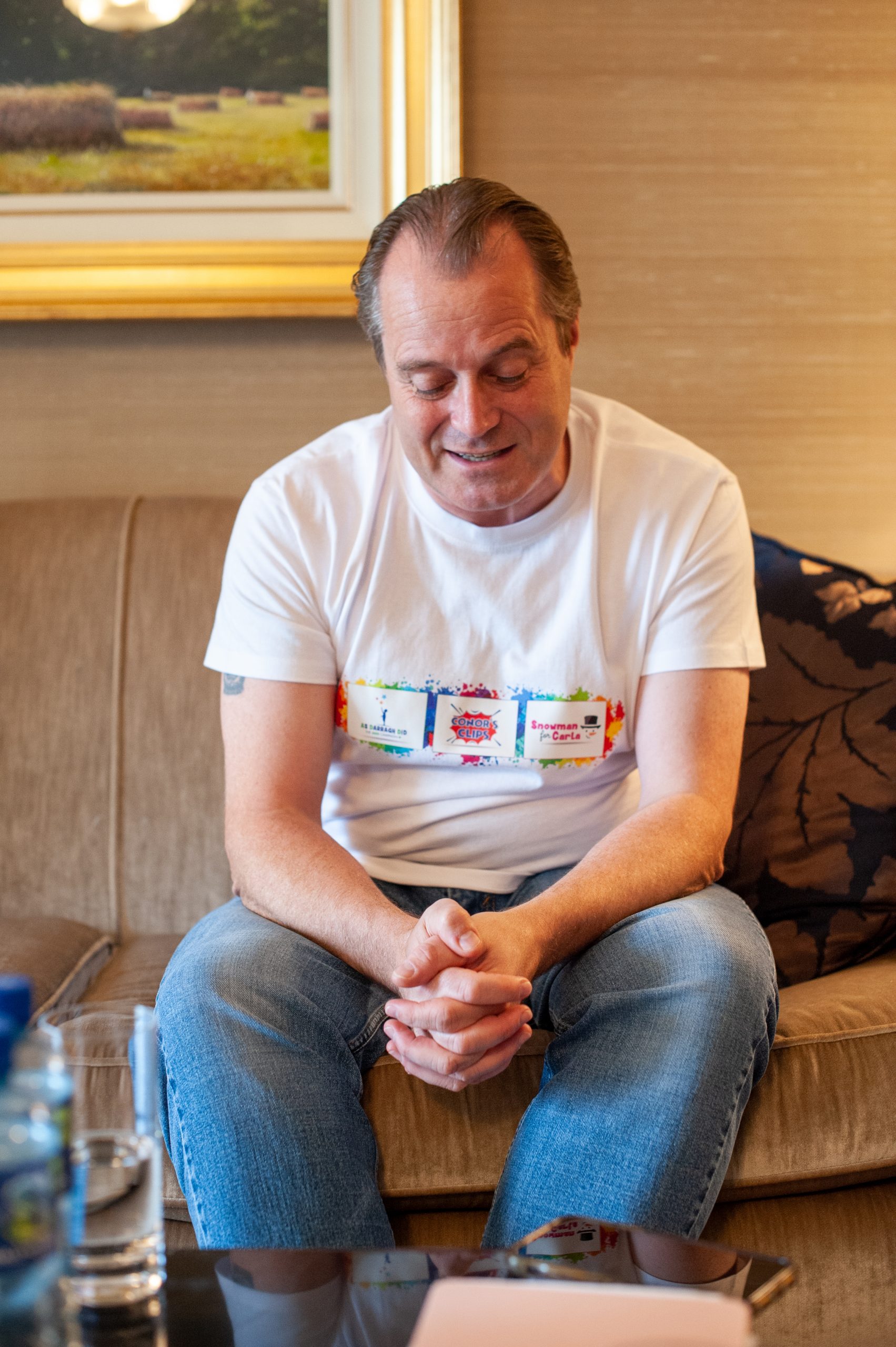 You still live in the family home – which is, you say, also filled with many happy memories. Have you left the kids toys and clothes and things as they were?
No (he pauses) your memories of the kids are in your head. I suppose all the videos and photos are everything for me and are more important than keeping a dress or football jersey. I have kept some of their clothes that do mean a lot, like the white football boots that the medium brought up and some of their toys. There was also this giant calculator that Carla called her iPad – I kept that.
Let's talk about the medium. You are not a religious man you say and you don't generally believe in stuff like this, but this medium that you were advised to go talk to knows things she shouldn't.
Yep, and I gave away nothing. All she knew was my first name. The first thing she said to me was, you have more spirits with you than anyone I have ever read. She asked who I'd like to speak to and as Conor's the eldest I said, Conor. A few seconds after she said, Is Conor a child? And I went, yeah. She said children are hard to read, but he's a sensible kind of kid and he's here now….then she says, Conor would like you to take his white football boots out of the wardrobe and put them beside Darragh's shoes.
I hadn't told her Darragh's name. Darragh had a pair of black and blue runners he wore everywhere. They were wrecked so I used to clean them a lot because he always wanted to wear them. I used to get a black sharpie and colour them in so they looked new. Because they mean a lot to me I had them out on top of a dressing table and I had Conor's football boots and shin pads in the wardrobe. So when I heard that it shocked me because I knew for a fact that Carol hadn't been in the house rooting through the wardrobe (he laughs)! And then she told me a secret Darragh told me about two weeks before he died. I hadn't shared it with anybody else, only me and Darragh knew about it and she was able to tell me that word for word. And it's the sort of thong you'd never guess, even if I gave you a thousand guesses. She also told me that Carla was happy I had kept her doll with the long hair.
It has to bring comfort knowing that they're here, somewhere…
Oh absolutely. There was loads more things she said that no one else could have known. It has given me comfort to know that their energy is here, somewhere.
You also got a message from Darragh to keep going with the projects. So, tell us about the projects.
I was standing outside the house the night the kids died and I was looking back at the house, which was bathed in blue lights from the emergency services, and you're just thinking about the last time you spoke to them, or hugged them, or held them…and it was then that it struck me that I never got around to doing a YouTube channel with Conor. He had asked me to set one up with him a few weeks before and so we had this plan to do comedy sketches with the five of us where we'd all take part. I still have his notepad at home where he had written down some of the ideas…it struck me that evening as I was standing there that I needed to do that for him. So that's Conor's Clips and it's on YouTube.
What about Carla?
For Carla, she wanted a snowman. It was November 2019, there was a slight flurry of snow and we gathered enough snow the size of pint glass to make a snowman! I remember her looking at me and then at the snow we had gathered! And I was like, when there's more snow I promised to build you a bigger snowman but we need more snow! And then for weeks after she'd be looking out the window for more snow! But Carla loved colouring so for Carla we have an annual colouring competition snowmanforcarla.ie. The Independent newspaper are also doing a colouring competition on Saturday the 13th of November, it will be as an insert in the paper or you can download it as a downloadable. There's loads of prizes to giveaway and I hope to expand on this in the future too.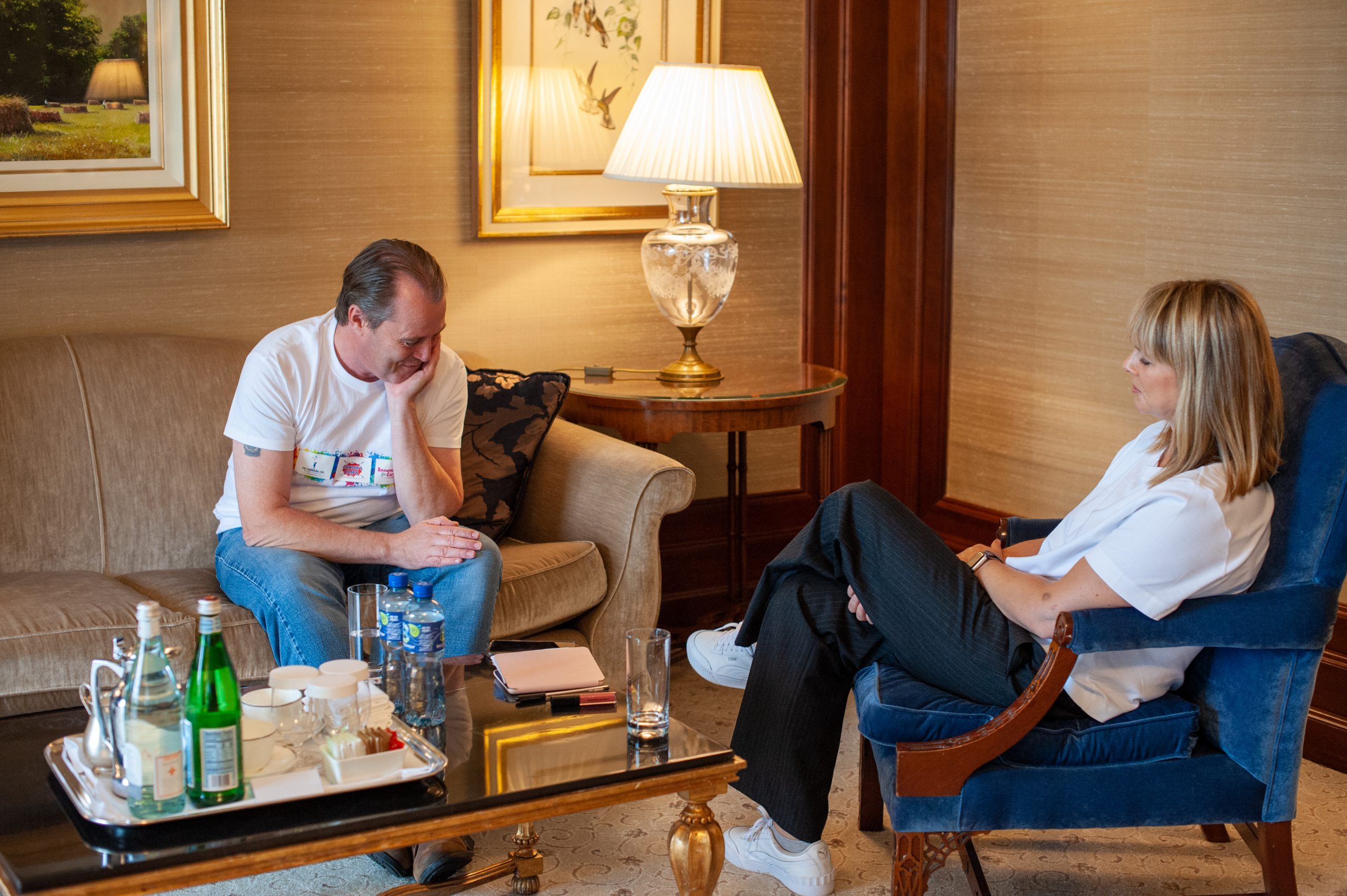 Tell us about Darragh's…
My promise to Darragh was that I'd coach Rathcoole Boys, the football club he was in. But Darragh played with the GAA club, he did hurling, he'd tried out for athletics so I thought it would be great if we could set up a charity that would help clubs and societies get people involved, as Darragh did. All three are separate charities because they were three different kids. They all got on incredibly but they were so different. Conor loved YouTube, the whole internet, all that type of stuff. Darragh was a very engaging kid, loved being involved. And then Carla would sit and colour and draw all day.
Where do we go if we want to support these charities, Andrew?
We are encouraging people to sign up for a monthly donation on asdarraghdid.ie. Every quarter we'll do a draw for everyone who's signed up and we'll give out prizes. Niall Quinn gave me a signed Man City jersey for one draw. For the next draw, which is going to be 31st of December, Niall he has secured me some Liverpool goods. And then Kevin Moran has been tapped up for the draw after that. We also have a concert coming up. The kids loved music. We used to discos and charades and little concerts at home. Daniel O'Donnell got wind of it and has offered to do a full two hour concert. It will take place on June 2nd and it will be first concert in Ireland since 2019. I am chuffed to have him. You can buy tickets, we'll draw out 30 winners, each winner will get four tickets to the concert, two rooms in the Louis Fitzgerald Hotel, a bus over, food by Derry and Sallyanne Clarke and a good night out.
Listening to you talk about the charades and the discos at home, it's so evident by this and more what a good father you were.
Do you know something, I was just a big kid. If they were doing Lego I was down on the floor doing Lego with them. If they were out playing football I'd be like, I'm going out to play football (laughs)! They were just great kids to get on with. Like, even going out shopping, I'd often take the three of them with me to do the big shop and you'd think taking three kids would be tricky but I used to love it and I'd set them all these challenges to get the best price, best before date, to make sure they'd hand stuff to Carla so she could put it in the trolley…(he trails off)
They were lucky to have you, and to have Deirdre until it fell apart in the end. Because you were a happy family…
Deirdre was a loving mum. And I feel strongly about the mental health act, I didn't know anything about mental health and I still don't. I think a lot of people find it difficult to understand (he pauses) but Dee was a fully functioning member of the house, she was waking up, getting the clothes, getting the breakfast, leaving the kids to school…but she was ill. I have seen commentary with people asking, were there no signs? (He sighs) It came out in the trial, after the deaths of Darragh and Carla that Dee was at the school gate engaging with people. That is mental health illness. I had spoken to her on the phone and… I still don't understand that and so I don't expect other people to understand it either but we need to realise that (he pauses) sometimes you can't see it.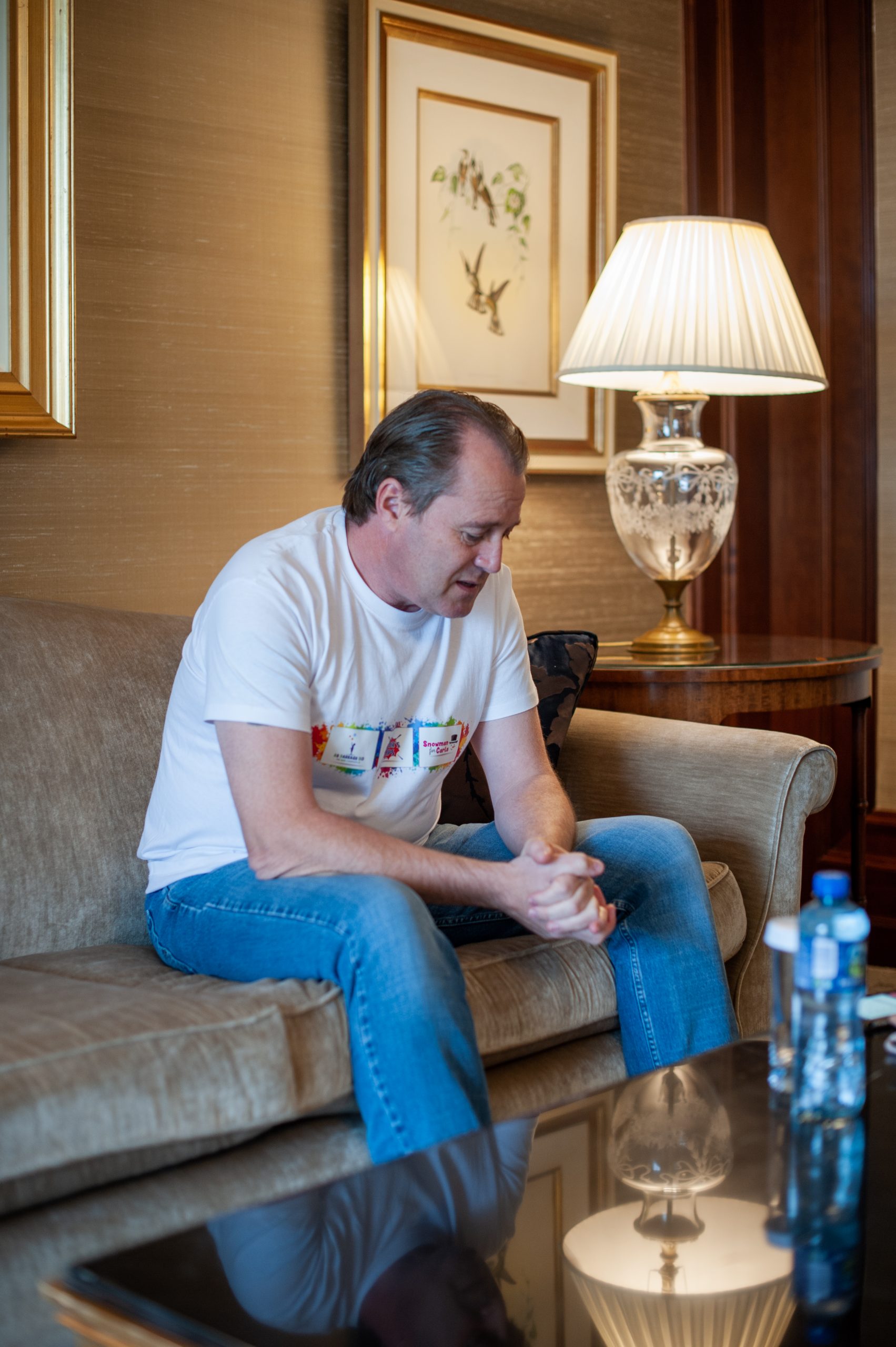 Your whole point and argument with changing the mental health act is that if you'd known things could have been different…
I know that Dee didn't want me to see how bad she was. I was probably the one person she hid it from the most. Yet, I am now aware of her counsellors and her psychiatrists having information that I felt would have been invaluable to me to understand her illness and I suppose to help manage it at home. Because I do not believe the one hour a week that she was with them was sufficient to help with her illness when she was spending the other 167 hours back home, particularly with children. I would have felt she's in the hands of the professionals and I am not a professional, I know absolutely nothing about mental health…I could talk for the next hour about how changes in the mental health act could benefit families, like mine. I think if the clinicians treating our loved ones engaged with families I can't see any downside where there is a loving and supportive circle for the patient. I can see no downside to family inclusion.
There are cases there isn't a supportive loving circle but I think in the vast majority of cases there are. So I can't understand how information that would have been invaluable to me, only came out in the trial. In our case Dee had spoken to our clinicians about taking her own life but they had chosen not to breach her confidentiality so I think it needs to be defined better in the legislation…
There are, we are told, seven stages of grief – the last one they say, and of course nothing is linear in life or death, is acceptance and hope, which forgiveness is part of this. But you say you can't forgive the act…
I don't think you can forgive the act but I think you need to understand that it was undertaken by someone who was ill. Insanity is the only word you can use. But I can't forgive the deaths of the children, it will always be a struggle….the projects are the only thing that I can take from it. And for me they put a smile on my face – at times. That's what drives me on.
Having your life so exposed and so visible – is that difficult?
I'd asked for the details of how the children died not to be made public but because the trial was in the Central Criminal Court that couldn't happen. So that's why the details all came out. That was quite difficult for me, for others too. I know there's a lot of people who have struggled since with it also. I know one person who was quite close to us who hasn't gone back to work since – they struggle with the detail. I feel that I do need to do this, to talk, campaign and run the charities, and that helps me put one foot in front of the other. Many of my family and friends have said, I don't know what to do, I don't what to say, and I'm like, here, sell t-shirts! This is driving me on.
And yeah, everyday is tough but I want to find joy in life, it's a pursuit of happiness I'm on now, and sending a tweet about Conor gives me happiness. Doing Carla's Colouring Competition gives me great joy. To be standing at the back of a venue listening to Daniel O'Donnell and knowing that everybody there is supporting Darragh's charity, that helps me.
This country will never forget Conor, Darragh and Carla, especially with a dad like you campaigning so hard.
If anyone out there is religious, I'd ask them to remember Deirdre too. She was ill (he cries) I can't imagine what she's going through. It's a very complicated situation…but we were a family and we were a happy family.
PHOTOGRAPHY: Lili Forberg; misslili.net
Shot on location at The Intercontinental Hotel, Ballsbridge, Dublin 4.
Make a monthly donation to Asdarraghdid.ie
Click to Conorclips.ie and Snowmanforcarla.ie