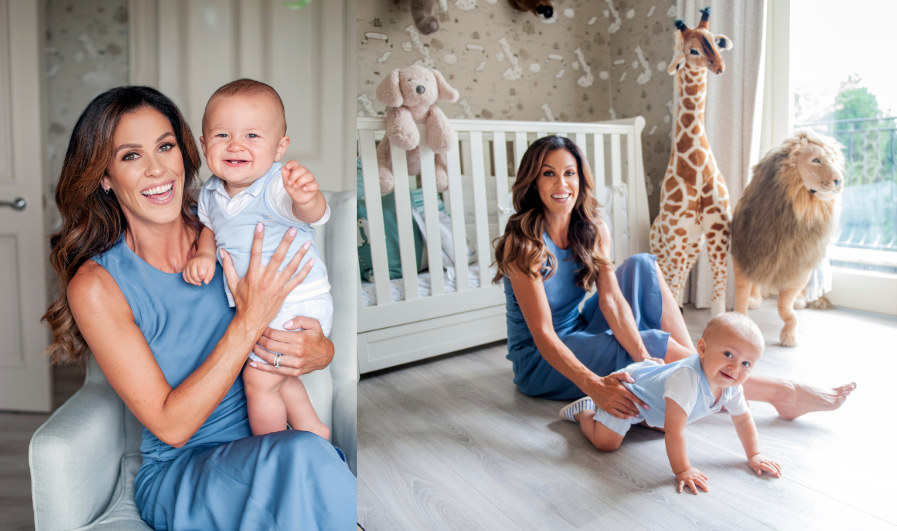 Glenda Gilson is standing in her beautiful home laughing with her gorgeous baby Bobby as he smiles sweetly to the camera. If ever anyone wondered whether he would inherit his mother's ease in front of a lens, he answered that question in his endless chuckles and smiles. A consummate professional… and he's only just turning one.
We are joined behind the scenes by Glenda's mother and doting Grandmother to baby Bobby, Aileen who ensures that Bobby is kept entertained while Glenda shimmies in and out of the outfits that our top stylist Fiona Fagan slips her into. And everything looks fabulous, sure of course it does! But what really shines through today is just how happy Glenda is, in the home that she shares with husband Rob MacNaughton and their sweet baby.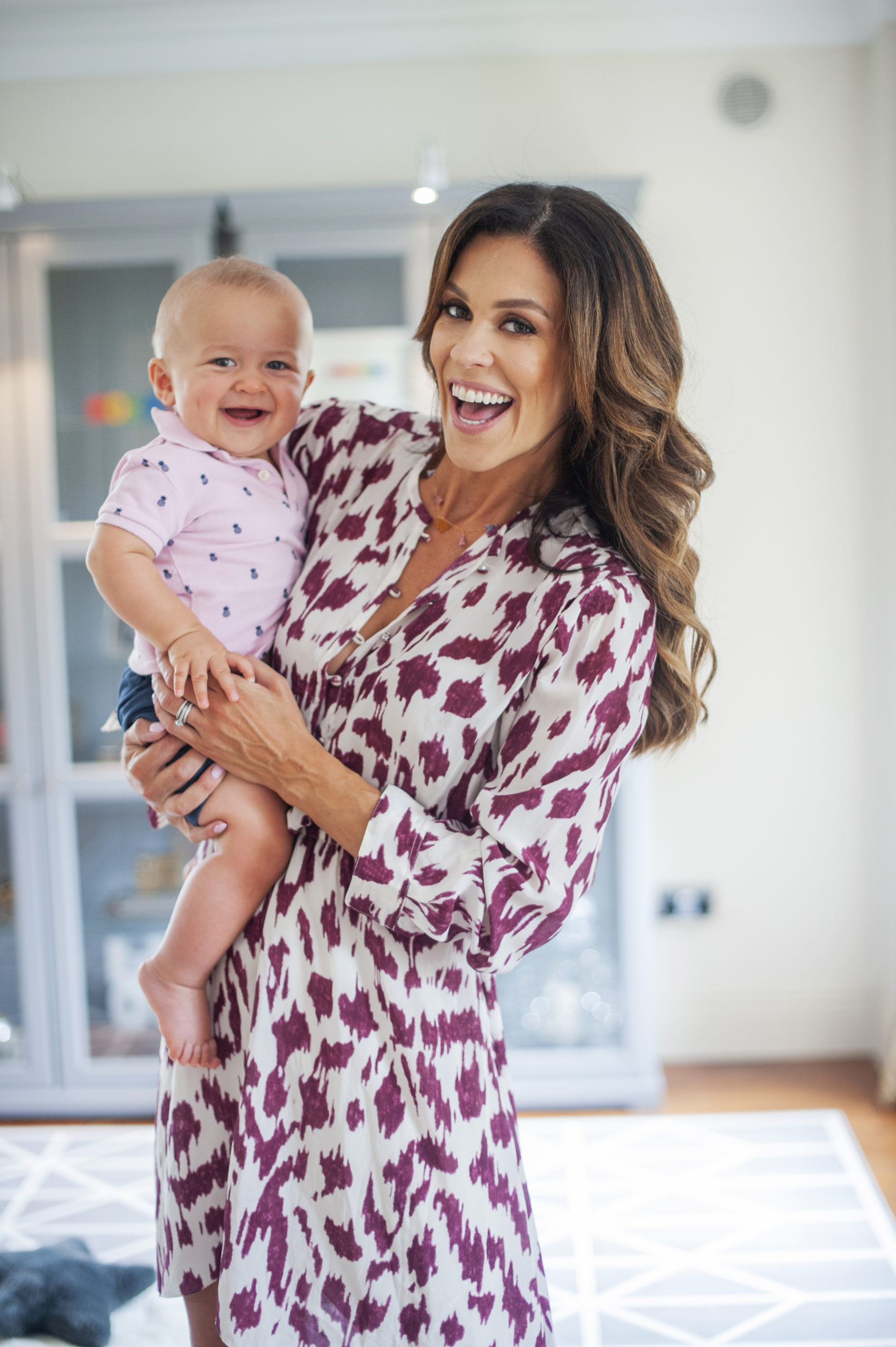 However, this all takes place just days before the shocking news that after 12 years on our tv screens, Xposé is no more. Glenda, one of the originals of the iconic showbiz programme, is suitably devastated of the decision to axe the show, when we catch up with her following the story breaking. Of course she is. It is the show that elevated her to the household name she now is across the country. It is the end of an era for a very important chapter in her glittering career, and a sad one to close.
In this Irish exclusive, Glenda opens up to VIP on how she's feeling in the aftermath of Xposé's cancellation. We find out her thoughts on starting back to Virgin Media this month for a brand new adventure, as well as her fondest memories through the years. Of course, we also delve in to find out the secrets to her happy relationship, getting her own wedding anniversary date wrong (and managing to laugh about it) and how seeing Rob as a doting father makes her love him even more.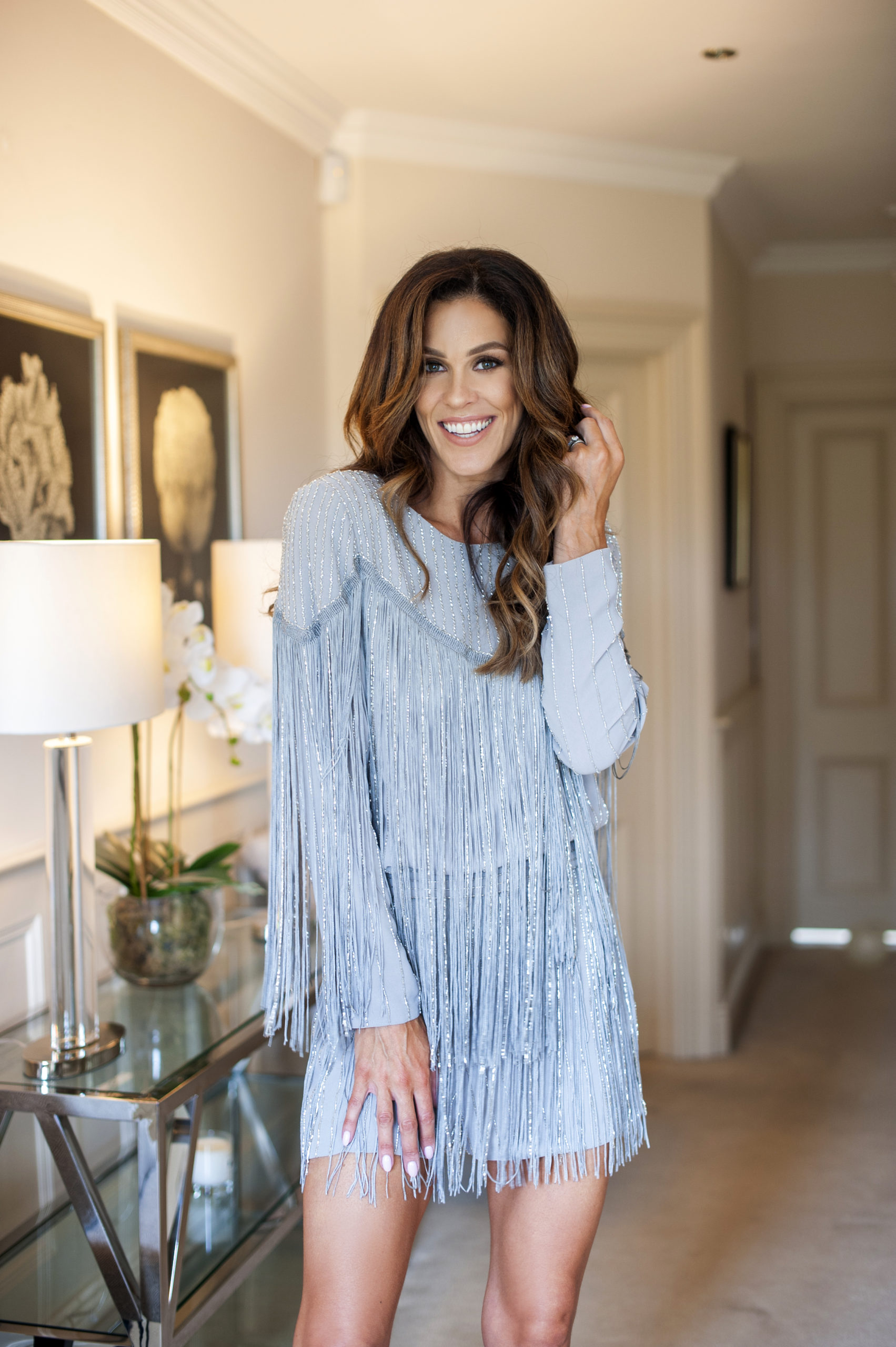 Glenda, we are so sad to hear that Xposé has come to an end after 12 years. How are you feeling?
Obviously I am very sad to see Xposé go. I think to see the brand go is the thing that's killing me because we worked hard to get it to where it was. We had some hard days, some great days. When it started, it was a tough time, especially when everyone told us it wouldn't succeed, because there weren't enough celebrities in Ireland to do a show like we did. We did live shows, we did hour long shows, we did everything. I think with things like when the schedule was changed, the time was changed and the presenters were changed, that was kind of when we were losing our viewership because I don't think people knew where it was. But look, regardless, I am very sad to see it end.
You must have so many highlights over the years?
I loved every bit of it. And it was our blood, sweat and tears, all of us, Karen, Lisa, Aisling, Sybil and myself and the background team that were there from the beginning, and then of course, everyone who joined through the years. We all loved it and we had so much passion for that show. It was exciting every time we ticked another box, doing the Oscars or doing fashion week or getting another great celebrity interview or whatever it might be. The odd time we'd go, "Wow I can't believe we were able to get a show together like that every day and we did it!" Now we just have to kind of go, "Ok that's that and move on." I am still going back to Virgin Media in October so you just don't know what the future will bring but of course I am sad because it's the end of an era.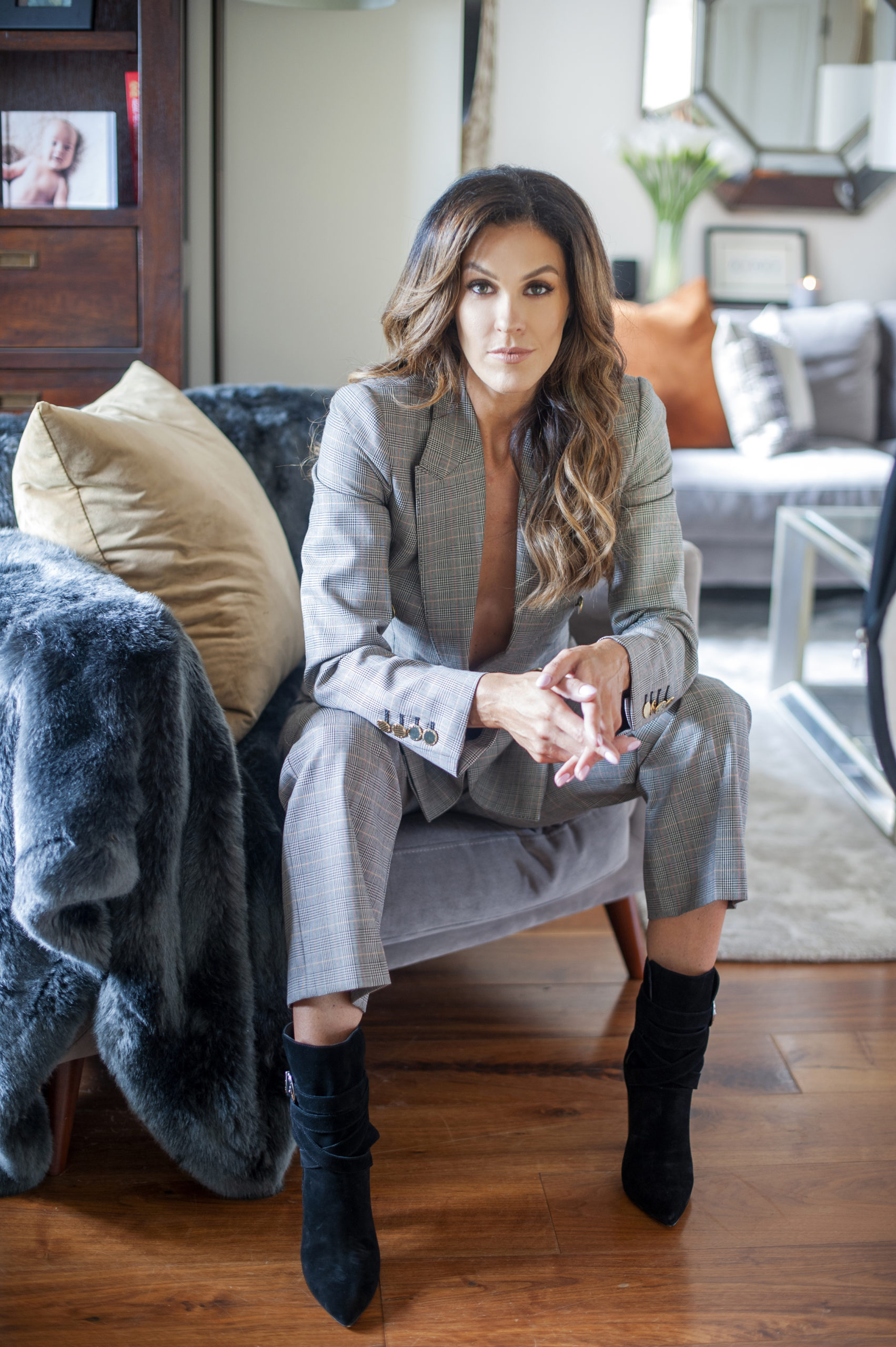 We also loved watching you on Ireland's Got Talent with James Kavanagh although sadly that is not back for another year. Was that another disappointment when you heard or did you have an inkling?
I am going to say that hopefully it is not gone forever. I really believe it will come back. People asked me how did I go back so soon after Bobby. It was such a treat to work there, that's how. And even though it was a year since we all worked together from the previous show, it was like we had never left. They're all great people, it was just a really good team. Some contestants are mad as a brush, some really talented, so it was just brilliant. And of course I miss James. We still have great fun and Rob is mad about him. I see him laughing away at his Instagram. James is a good guy with a great heart, he's not just, as I used to call him "Snapchat sensation James Kavanagh," there's much more to him; he's just fantastic.
And now your old work husband has teamed up with Anne Doyle… what do you make of that?
Ah, it's so great. I saw on Instagram the two of them were doing shots so god only knows what they will come out with. [Laughs].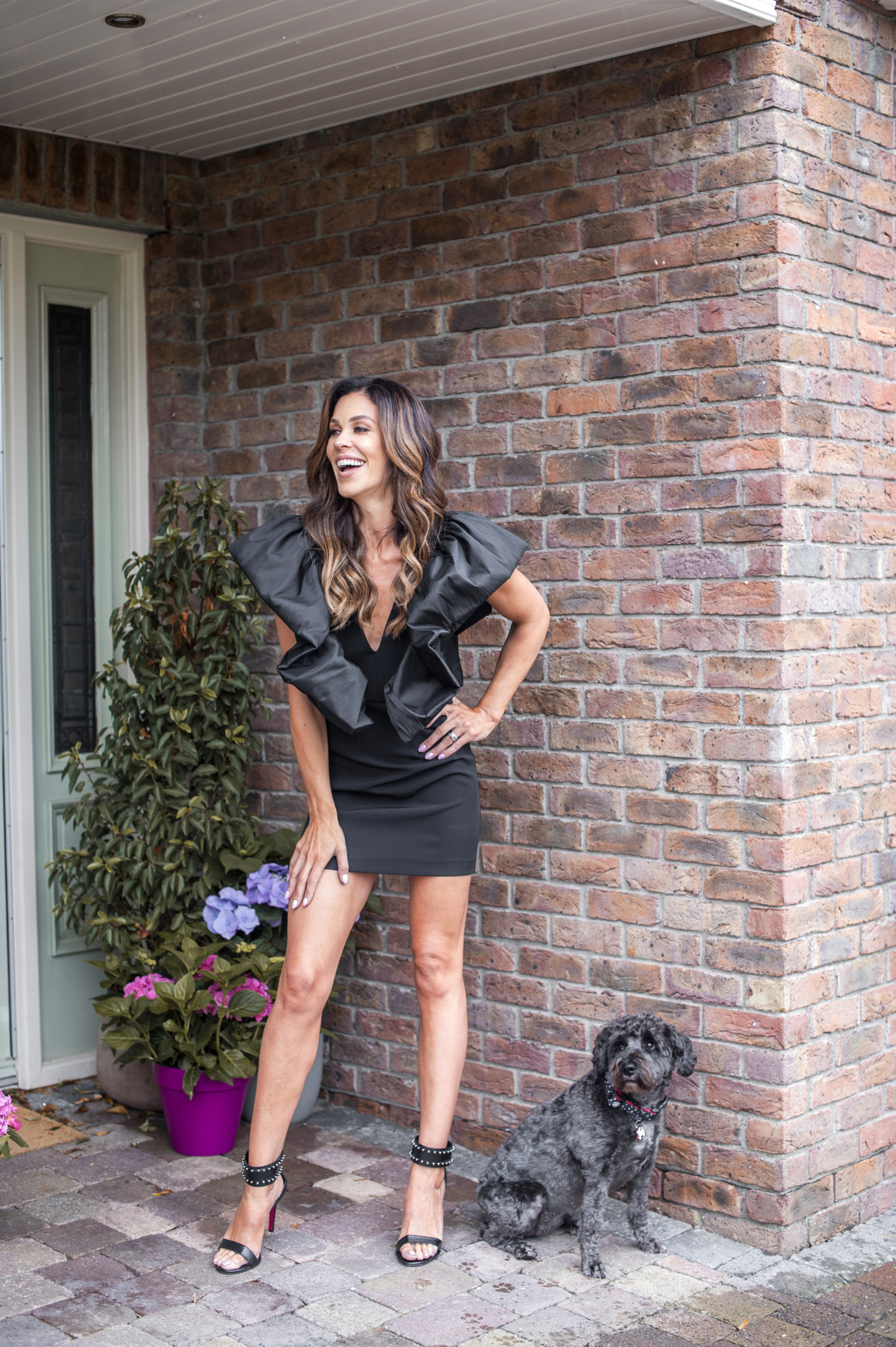 Do you feel pressure working in the public eye to look a certain way?
I am back in the gym. I have been with Paul Byrne in BodyByrne gym for years. It's just so good for your head. Some days I could go in there like a demon and I come out of the gym and I feel great. And of course after having a baby I want to feel good about myself. I always walked with my dog Yaz, and now I have Bobby and the three of us are off out…but I never stop. I am not one to sit around. I am not really an early morning person either [laughs] but I suppose Bobby is changing that now. I am lucky… it's in the genes as they say but I can also see as I get older my body changing so I do have to work at it.
This is Bobby's first official photoshoot for VIP. How does it feel showing him off?
Ah, it's great…and he was in good spirits and smiling. Since he could smile, he's been smiling non-stop, which is great!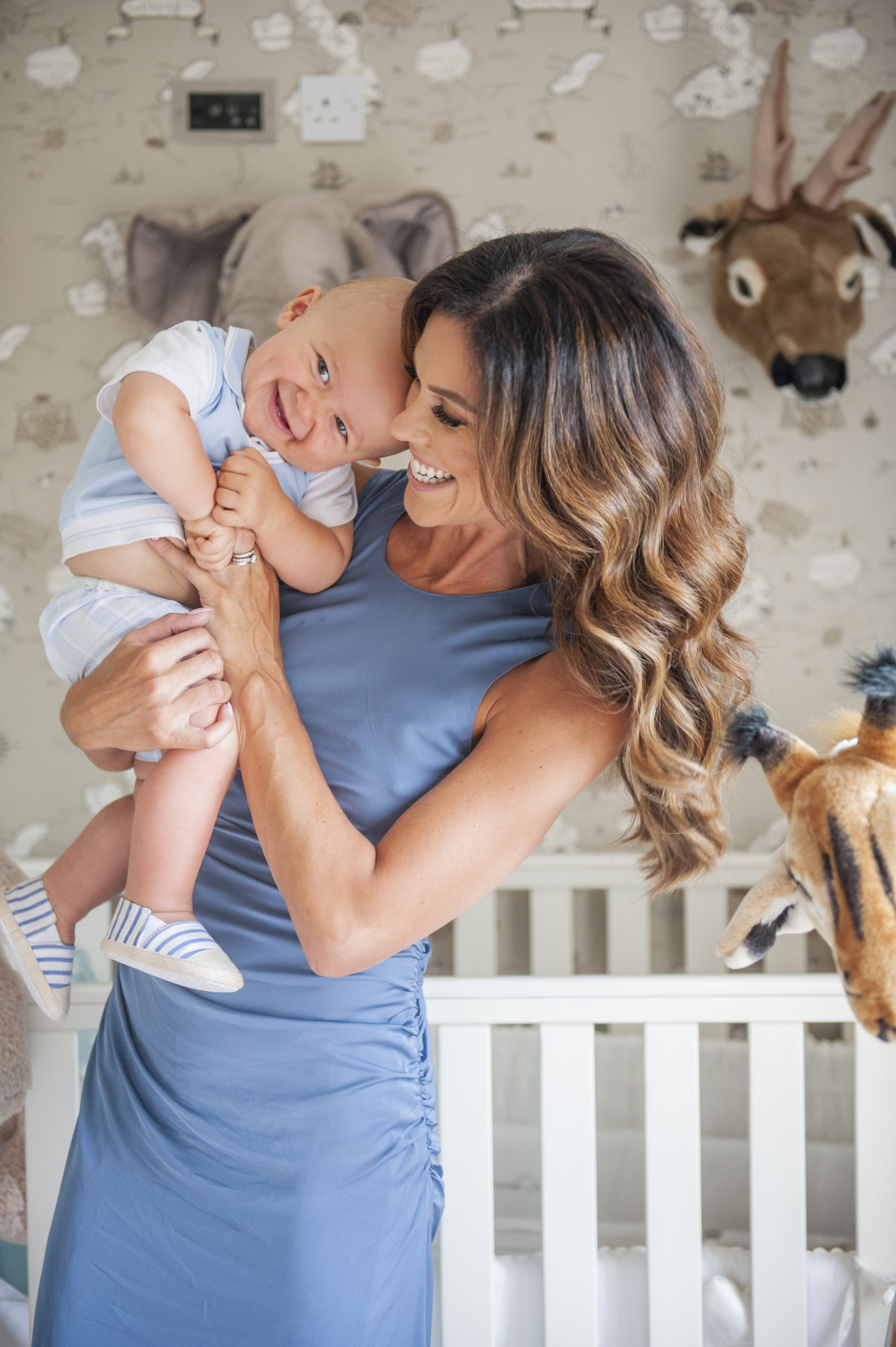 It'll be 12 months soon since this little dote came and turned your world upside down. Are you getting into the groove now and coming to terms with what can be a daunting responsibility?
Yeah…you carry this baby for nine months and then it's just like, "Oh my God, how did this happen?" A friend of mine has four little girls and she said to me, "Glenda, from 0-1 is the hardest, much harder than 1-4!" So we're coming out the other side of that now…you're still adjusting from single life, nights out and meals out, but of course you have this little happy face that wakes up at the crack of dawn. And you have to be up and you have to be all ready for it…I feel I am kind of getting there now! Bobby is sleeping and everything like that, so life is good. Life is really good. Everyday there is a new smile or a new action. You don't know what to expect, you're always thinking, "Will I be a good mom?" I have always loved kids and I was dying for this.
Does it make you appreciate your own mother Aileen even more? She is here today and we can see how much Bobby adores her.
Oh he does. My mom tells us how she thought she would never be a granny and now she has one, and another on he way with my brother's girlfriend's baby, [laughs]. Absolutely though, now I stop and go, "Oh my god, my poor mother." And I love all the sayings now like, "It's never really lost until your mother can't find it." I have a new appreciation now for mums and all that they do, like when we were kids and we would come home and we'd be like, "My room is always clean!" And my mother would say, "It's because I always do it", [laughs]. So with things like that I am just like, "Jeez thanks mom." She's an amazing mother and grandmother.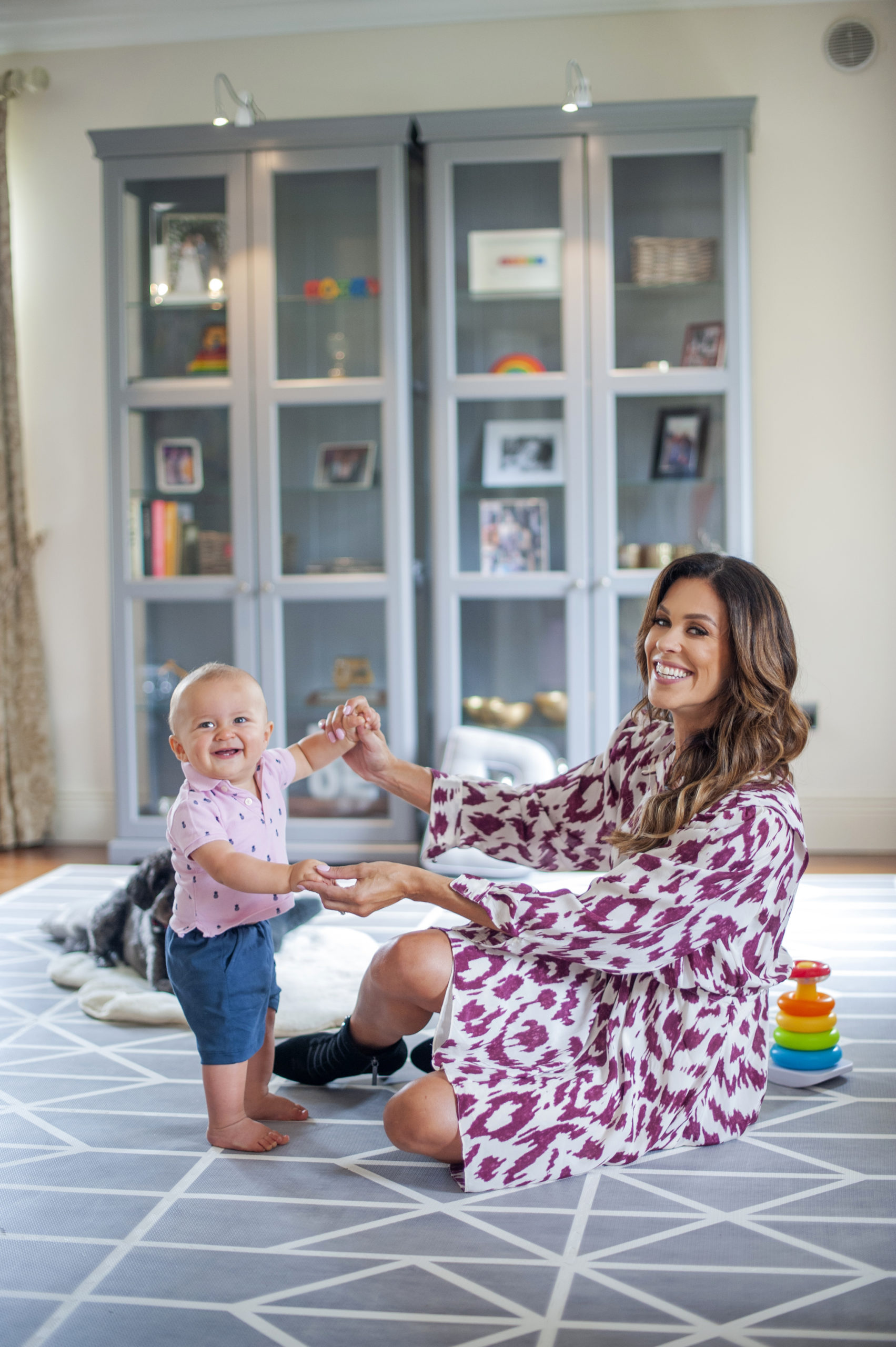 And of course Bobby has Rob's doting parents, too. What a lucky boy.
Bobby is so lucky on both sides as he's the first grandchild on mine and the first on Rob's. Rob's folks Rosemary and Malcolm are the best grandparents anyone could wish for! Such a lucky baby.
And let's not forget Rob himself. He is a doting dad from what we can see from your pictures dotted around the house.
Oh Rob is just fantastic. He has really taken on the whole fatherhood thing and he just adores Bobby.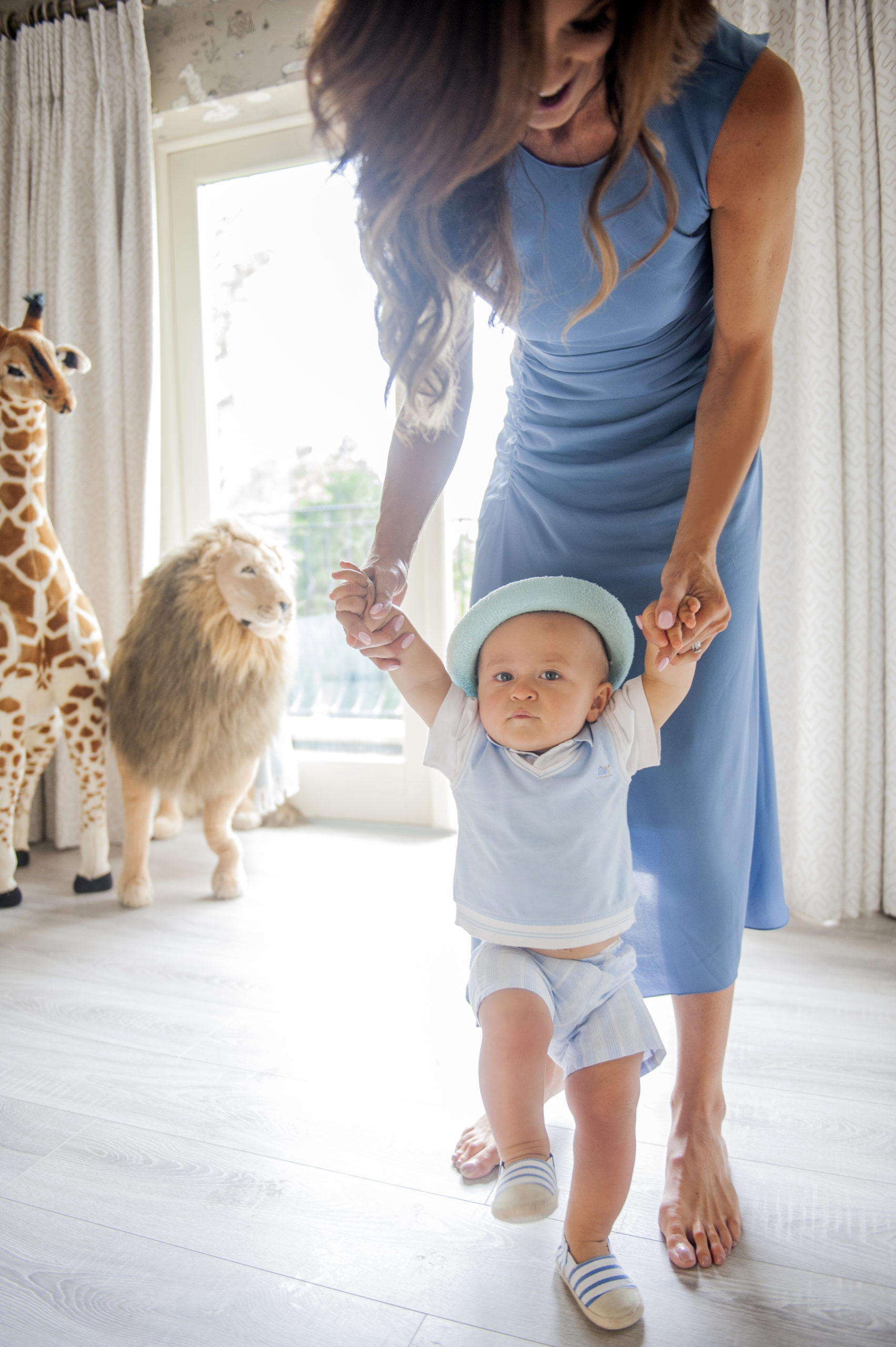 Has watching him step into the role of a father made you love him even more…if that is possible?
I always knew he had it in him to be honest. Rob has a brother who has two little girls and he is mad about them. And I had my little Godchild…she used to be over with us all the time and I used to see the way he was with her as well. There's times when I drive him around the bend so that's why the two of us are going to BodyByrne of a Wednesday [laughs] to burn off that steam. Ah Rob is so brilliant. And especially if there is a stinker Rob will say, "Excuse me, I will go in there and sort that!"
Dream dad so! Do you still have those moments of "Oh my god… I am someone's mum?'
Oh yeah. I was in London for fashion week there and a taxi driver said to me "Have you got any kids?" And I was like…that's the first time someone has asked. So I was actually like, "Yeah, I am a mother!" It's a strange one to hear but a great one!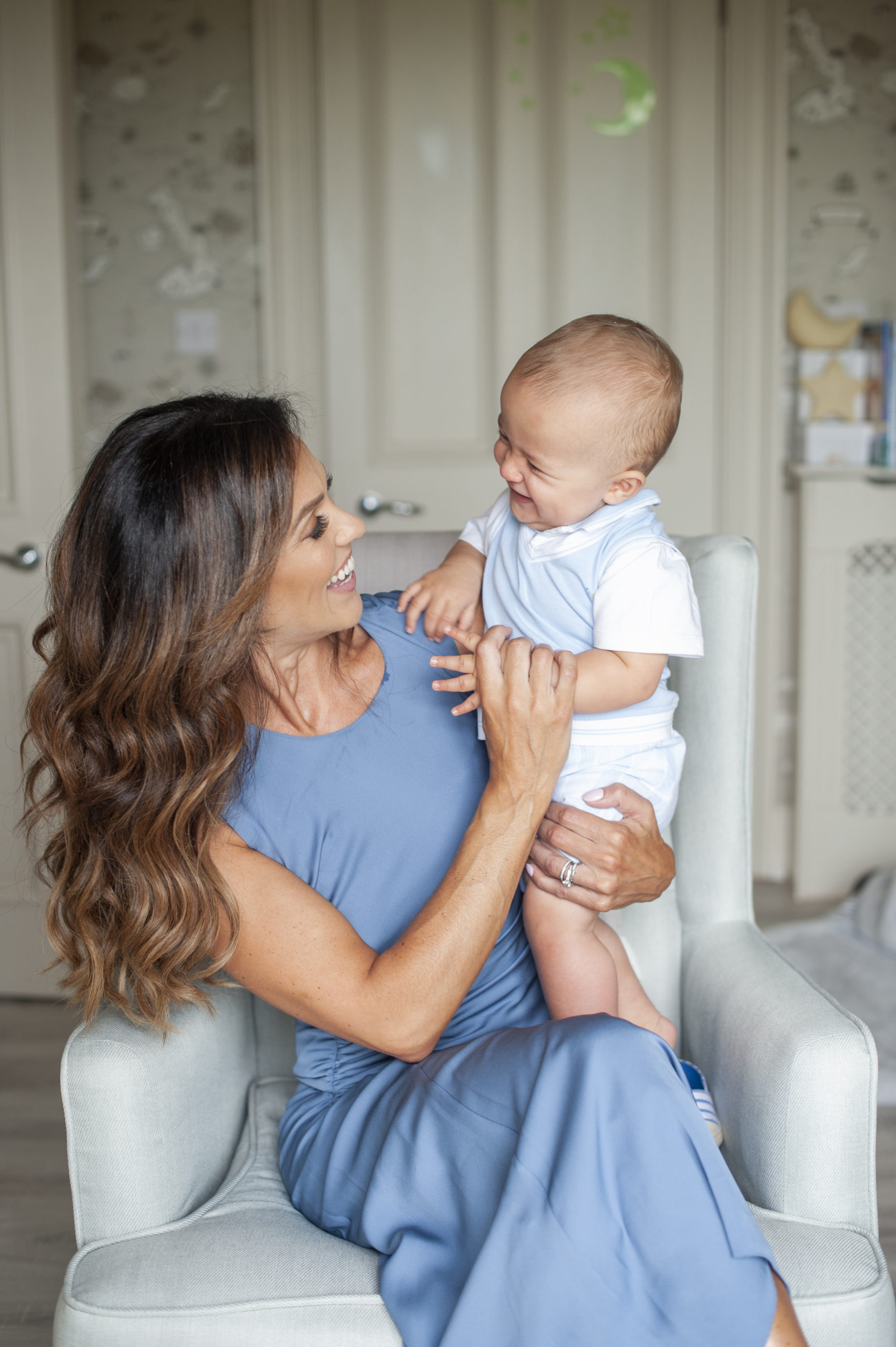 Being in your home with you for our shoot, your mum with us, and then your dad called in afterwards… family is everything, we guess?
Oh of course. My mom and dad have always been a big part of my life. I didn't leave home until I met Rob. There's only myself and my brother. And my parents can't get enough of Bobby. Mom will be over and then dad will help her out. Even later today I am going to the gym and they will come over to mind him, they're a good team.
Let's talk interiors. The house looks amazing…
Thank you, Arlene from Ventura worked on it with us. We moved into the house two days before Bobby arrived and we had no curtains… nothing. I was only finishing working thinking, "Ok, I have two weeks." Not that you can even lift a box [laughs], but I actually thought at least I will have time for the house. But the day I was leaving work, Rob picked me up to bring me for my last appointment in the Coombe and my waters broke when I got there. So Bobby arrived two weeks early. The help I got from Arlene was just amazing. They came and sorted everything out. The baby room is my favourite, already so many memories.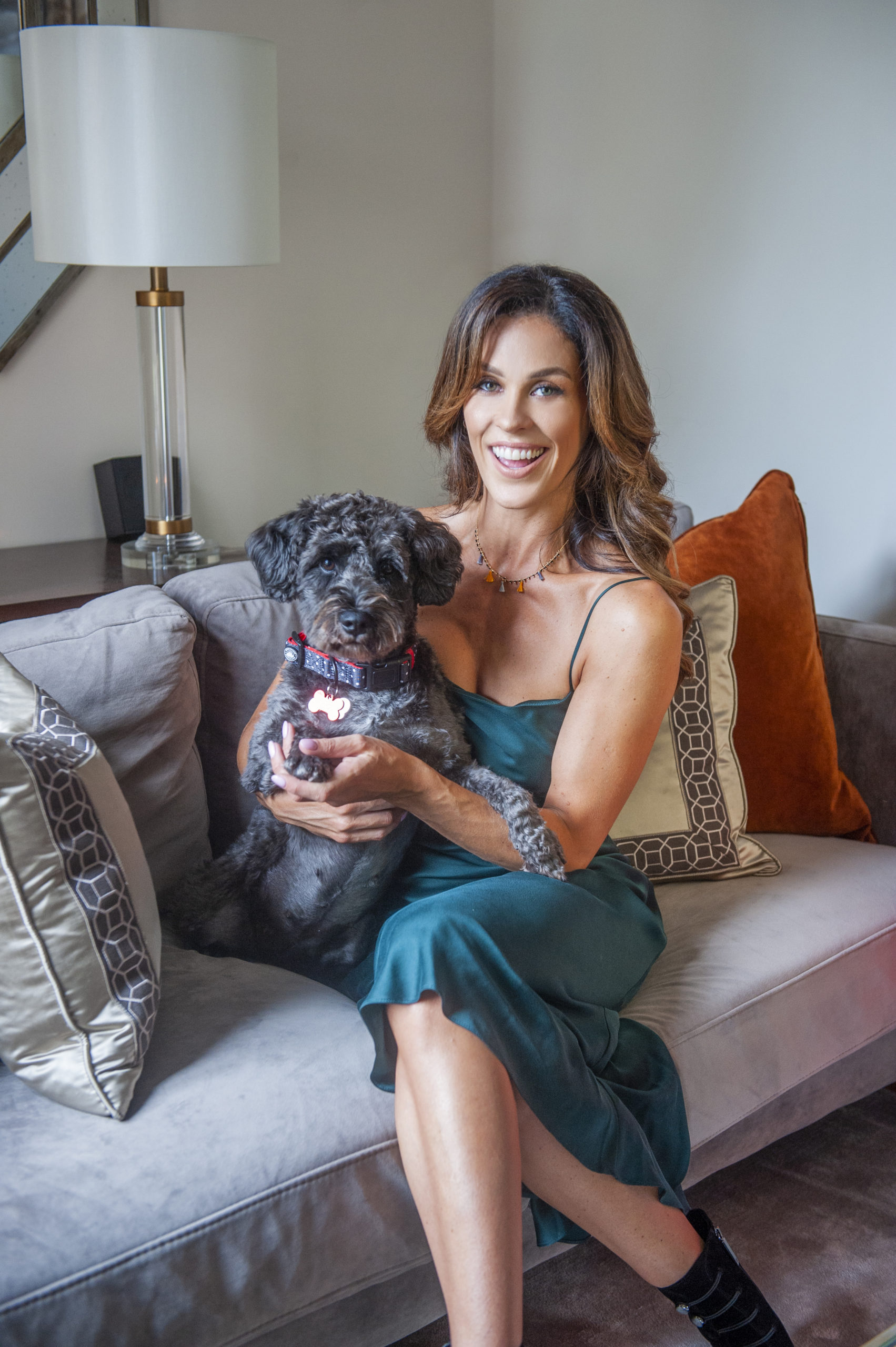 You and Rob celebrated your five year wedding anniversary at the end of August. Are you both still smitten?
I have been laughing about this. We were in Spain in July and for the full week we were talking about our anniversary. And our folks were with us and my parents said now, "You two go out for your anniversary." And I was like, "Thanks a million!"[laughs]. My parents booked a restaurant and said they would mind Bobby. And we both wished ourselves a happy anniversary and I put up a post on social media. A mate messaged me and said, "Glenda it's not your anniversary until next month!" So I was like "What?!" I said "Rob, we're a month early!" and he was like "What?!" [laughs]… neither of us noticed!
At least you were in it together! We ask a lot of people this but is there a formula for a healthy and happy relationship?
I think first and foremost myself and Rob are great friends. Anyone who knows me and Rob knows we get on well. And of course we have our little rows but we get over them. There are days where one of us could be stubborn and not talk to the other for an hour or two but especially when you have Bobby you just have to get over these things. We'd actually rather ring each other just to annoy each other more! [laughs] So…no, I don't know what it is but I just know that I adore Rob. Do I love him more now? Probably yeah [smiles].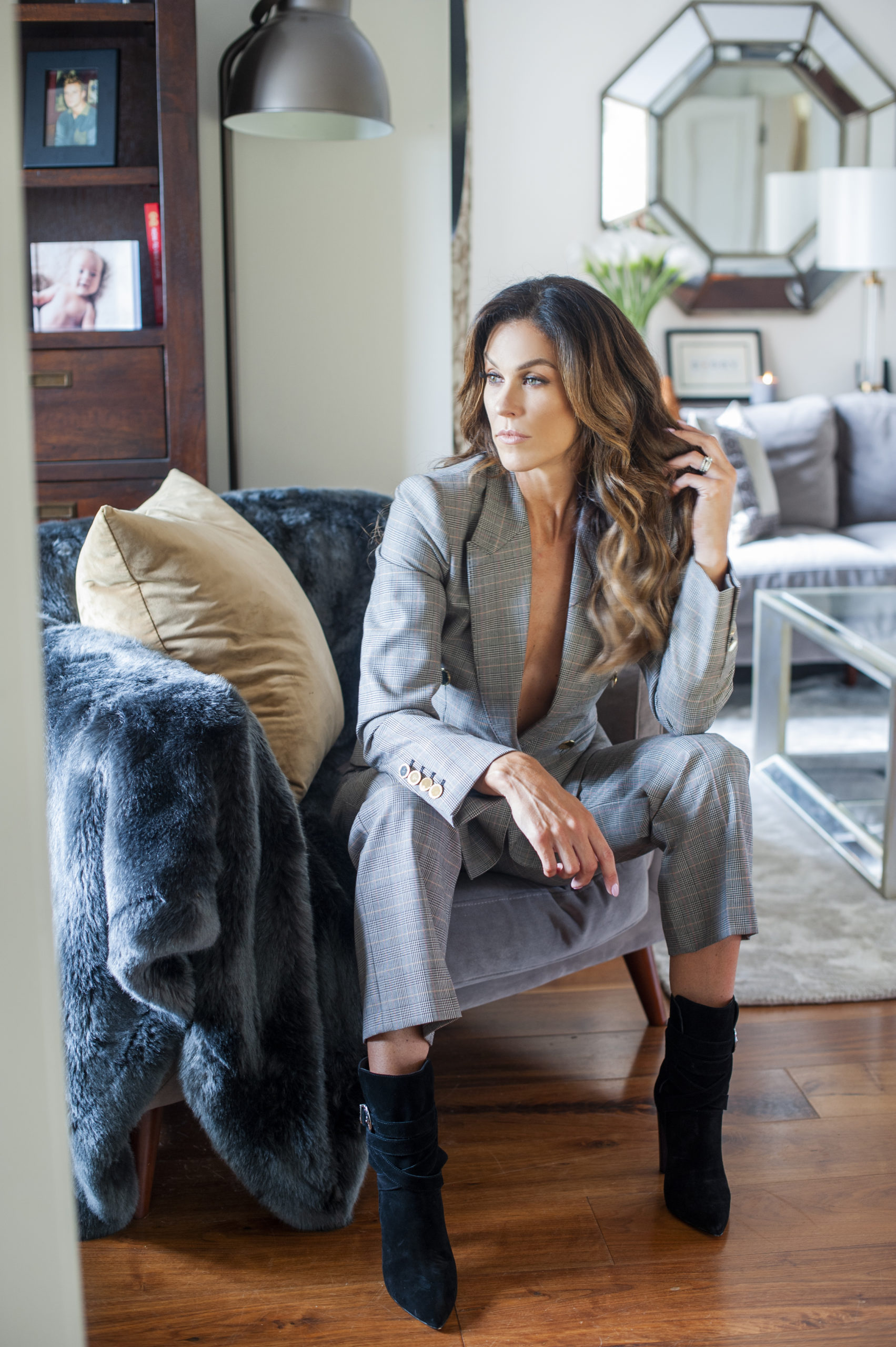 You were away a lot during the summer giving us all holiday envy…is travelling with a baby as tough as they say?
Bobby has been in Spain twice and he's been all around the country. Obviously it's harder because you pack more… and it used to be all about your beautiful outfits, now it's like: Bobby's outfits! But look it's great. It's all new to us, it's a learning curve, you know.
And are you similarly good for making time for just the two of you?
Ah we are. We will always make sure that we go for dinner once a week or we get out for walks, we still have to remember Yaz our dog. When Bobby has gone to bed I might get my mom to sit with him and we will go out even just for an hour if we can.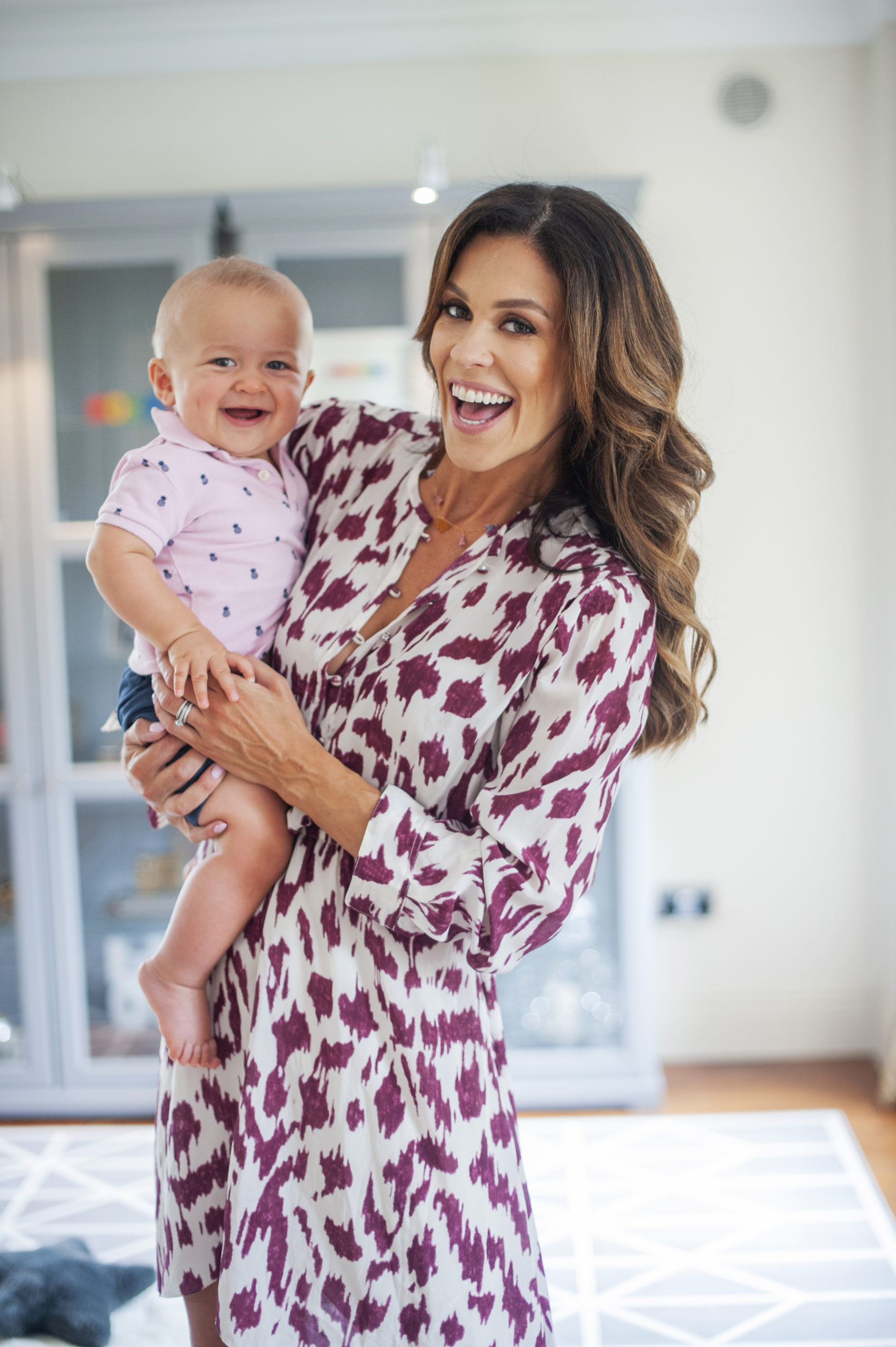 While you and Rob seem so connected, you are both quite different. Rob sells farm machinery and you're here chatting away to us looking glamorous as always. Do you think it's your differences that make you work so well together?
I have actually never seen Rob on a farm in my life! But I am more clued in to the machinery side of things now. People would say "Oh look Glenda there's whatever tractor in the field." Because I notice all of them now! I will say things to him now like, "Did you see that so and so has two machines on that road?" I am just used to it now.
Glenda, it's about time for us to leave you but before we go, given all that's happened of late, we must ask, what now?
Bobby turns one on the 22nd of this month and I go in to Virgin Media for my meeting on what's next for me the following day. I am looking forward to what's next, whatever that may be!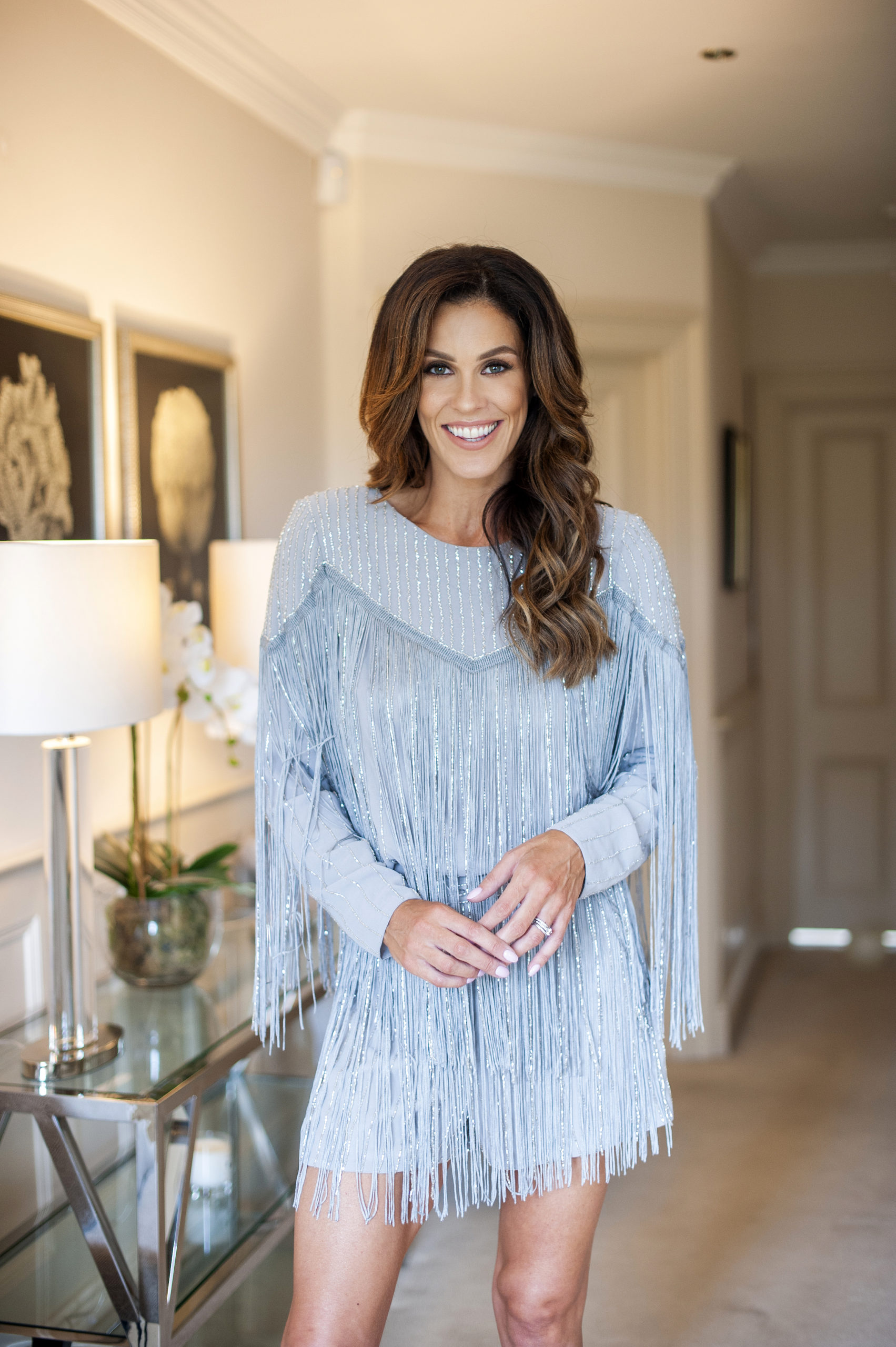 Interview: Elle Gordon
Photography: Lili Forberg
Styling: Fiona Fagan
Makeup: Paula Callan
Hair: Anne Marie Lynch; Ceira Lambert