If it wasn't clear already, Arthur Gourounlian and Brian Dowling are couple goals!
Don't believe us? Just look at Arthur's sweet birthday tribute to hubby Brian in honour of his 45th birthday.
For everyone else, it may just be another Tuesday but as as Arthur reminded his followers on Instagram today, it is in fact his "beautiful" husband's birthday.
Starting off his post, Arthurs wrote: "It's my beautiful husband's @bprdowling birthday today, well it's not the big one just yet we still have a few more years ahead of us before then."
View this post on Instagram
However, Arthur did emphasise that it was special in another way, as this marked the first birthday Brian would be celebrating with his daughter Blake.
Adding: "That makes it so much more special than any other birthday. "
"We both love you very much and we appreciate you beyond whatever you can imagine."
"So have a stunning day and let's celebrate you the whole week why not."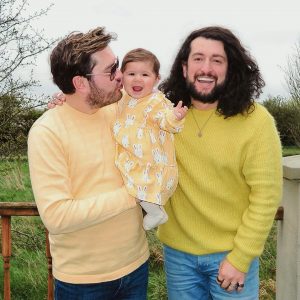 Meanwhile, Brian took to his own Instagram to share his appreciation, admitting the best gift he could possibly receive is his daughter.
"She makes every day feel like it's my Birthday & Christmas rolled into one," he wrote.
"I would never have thought in my wildest dreams that at the age of 45 I would be married, living back home in Ireland & be blessed with a daughter."
Happy Birthday Brian!