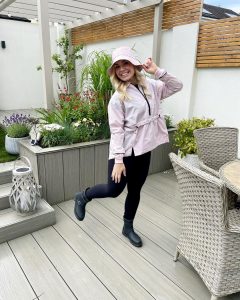 Earlier this month, Anna Geary welcomed the birth of her first child with husband, Kevin Sexton.
After arriving, "slightly ahead of schedule" the sports star shared the news with her followers on Instagram by uploading an adorable photo with the caption: "He couldn't wait to get here."
Now the new mama has once again taken to social media to share a little life update.
Firstly, Anna thanked everyone who had been sending her kind messages and admitted that she had been attempting to chat on Instagram Stories for quite some time.
View this post on Instagram
"I'm trying to record them and then I'm forgetting words and things, so definitely the sleep deprivation is kicking in," she shared.
"And actually peaking of sleep deprivation, even though the newborn phase is amazing and the cuddles are great and the newborn smells and everything, it is bloody tough.
"So if you're someone that is in it as well, I see you," she added.
"If you haven't changed your clothes or had a shower or gone outside in a while, that's okay.
"We're all just winging it," she continued.
The fitness guru then revealed that her husband had returned to work today and asked her followers for any tips on "flying solo".
Adding: "It is a little bit daunting, but look it's fine."
You got this Anna!