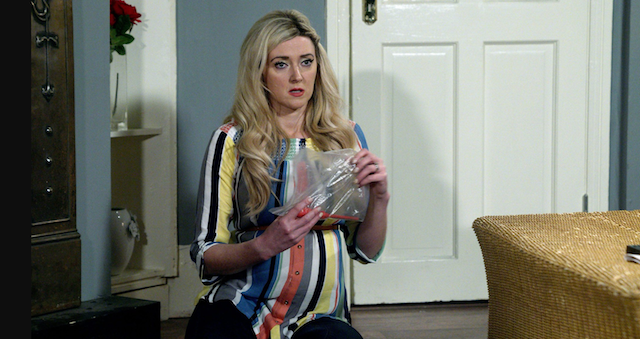 Jenny Dixon has joked about the awkwardness of buying a newspaper today after Fair City's dramatic storyline unfolded on Thursday night.
The soap finally provided viewers with some answers when Kerrie Ann, played by Jenny Dixon was revealed as Karen's killer.
After the shocking attack which saw her stabbed and left to die, the audience grew ever suspicious of a number of characters including Wayne, Oisin, Orla and Kerri-Ann.
While she was suspected, fans were still shocked to see the character with the murder weapon on last night's episode.
It clearly gripped the nation, as most major newspapers features the reveal on their front page this morning.
Taking to Twitter, Jenny Dixon shared a collage of all the papers covering her storyline.
"Also, it's a tad awkward going to the shop to buy a paper today," she joked.
We reckon she'd get a few looks in the newsagents today!
Speaking ahead of the big reveal at the Peter Mark VIP Style Awards, the actress told VIP Magazine: "We shot a lot of episodes and a lot of heavy drama. I finished that block last week.
"It's been the most intense story that I've shot. We've had twelve hour days for the last few weeks."
Though many have covered the storyline, our sister publication TVNow has the only interview with Jenny Dixon about the big reveal, on sale Monday.