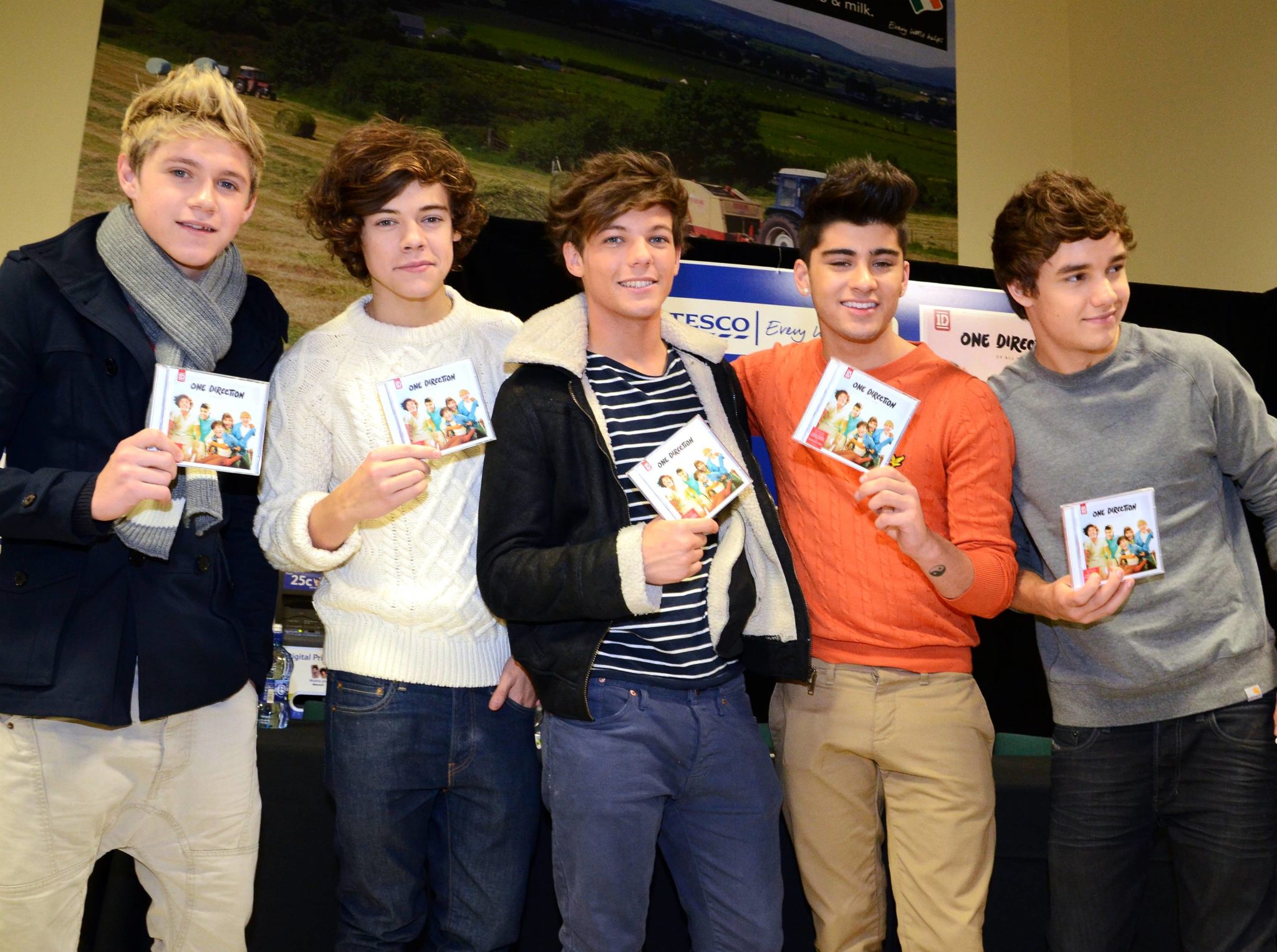 July 23rd marks the ten year anniversary of One Direction, arguably one of the biggest boybands of this generation, consisting of Mullingar man Niall Horan, as well as Harry, Liam Louise and Zayn of course. Ten years after the band's formation, the boys have been through a lot of ups and downs and their fans joining them along the way. Followers all over the world are awaiting a possible announcement or anniversary video today, but while we wait we thought we'd count down some of One Direction's most iconic moments as a band.
10. Formation
Let's take it back to 10 years ago today when the band were first brought together by Simon, Nicole and Louis when they were brought back on stage after being eliminated from the X Factor, and told they were through as a boyband. Little did they know what was to come! Thanks to those judges for making that genius decision!
9. Zayn nearly quitting X-Factor
Right before they were put into the band, the boys had to endure bootcamp as solo artists. This bootcamp included trying to learn a dance routine, which didn't come naturally to some of the boys. Zayn struggled with the challenge so much that he very nearly quit the show entirely, only for Simon who found him backstage and convinced him to stay. Thanks again Simon! Although we can't help think that this was a sign of things to come… but we still feel bad for baby Zayn!
8. Third place 
If you don't know, One Direction didn't actually win The X Factor. They came in third place that year, runners up to Rebecca Ferguson and Matt Cardle. With the success of the band it's easy to forget where they placed.
7. What Makes You Beautiful
The song that started it all. One Direction's first single What Makes You Beautiful debuted at number one in the Irish English and Scottish charts and had the most amount of pre orders than any Sony music song had at the time. The video was iconic; the beach, that girl who everyone was outrageously jealous of, the beige pants and Hamptons style shirts, and of course Liam's curly hair moment. Such a time stamp!
6. One Direction do iCarly
This is one of the most memorable episodes ever. Seeing One Direction engage with Carly and Sam while awkwardly acting was a real treat no matter how bizzare. It's hard to imagine modern day Harry Styles being sick in Carly Shay's bedroom…at least it's immortalised on film!
5. Best Song Ever
Controversial opinion but this could be one of their best videos ever!? Moving on from the questionable acting on iCarly, the boys showed off what they can really do in the video for their song Best Song Ever. Liam as the choreographer, Harry as the marketing guru, Louis and Niall as record execs and the most surprising performance of all Zayn as the female receptionist! Looking beautiful we must add, a usually quite serious Zayn surprised fans by really not taking himself too seriously in the video and portraying a sexy receptionist. We love to see it lads. Please enjoy reliving this video as much as we did.
4. 1D Day
In November 2013 the boys held a 24 hour interactive live stream to promote their third album Midnight Memories where the band played games, had guests involved, did interviews and sang for followers. Fans all around the world tuned in for hours of non-stop content as the lads just had a good time. Imagine that now? It would have been the perfect isolation entertainment!
View this post on Instagram
3. This is Us
Of course we had to include the One Direction MOVIE. Anyone else recall getting fake vip pass tags to wear when you bought your tickets? Getting to know the boys in a more in depth level in the movie made all the fans super excited and showed their parents what 'nice lads' they are. The excitement of Niall going home to Mullingar and knowing the whole world are seeing the little Irish town was so exciting.
View this post on Instagram
2. Zayn leaving the band
Who has the tissues? Possibly the most iconic moment of the bands career for all the wrong reasons. In March 2015 Zayn announced that he was leaving the band, and with that came a whirlwind of emotions angry fans and revelations that Zayn hated it the whole time (say it ain't so!). The devastating news didn't stop the boys however, they continued as a four piece and held strong even without Zayn's vocals. Unfortunately for fans the bad news wasn't over yet…
View this post on Instagram
1. Hiatus 
Yep, that hurt. In January 2016 the band went on an indefinite hiatus to allow each member to explore solo opportunities. The word hiatus leaves fans with the hope of a reunion at some point, but it doesn't seem to be any time soon. Each of the boys have been extremely successful in their solo careers in music , Harry even tried his hand at acting, Niall started a golf agency , Louis and Liam are now fathers and Zayn is expecting his first child with Gigi Hadid! We are glad to see each of the boys continue to be successful individually even if the band isn't  making a comeback, the History video gets us every time.
Phew, that was a busy ten years, and yet it feels like it flew by! We look forward to seeing the anniversary video that is to be released at 4pm today. Hopefully by the 20 year anniversary we have a reunion tour!
Words: Jade Carpenter