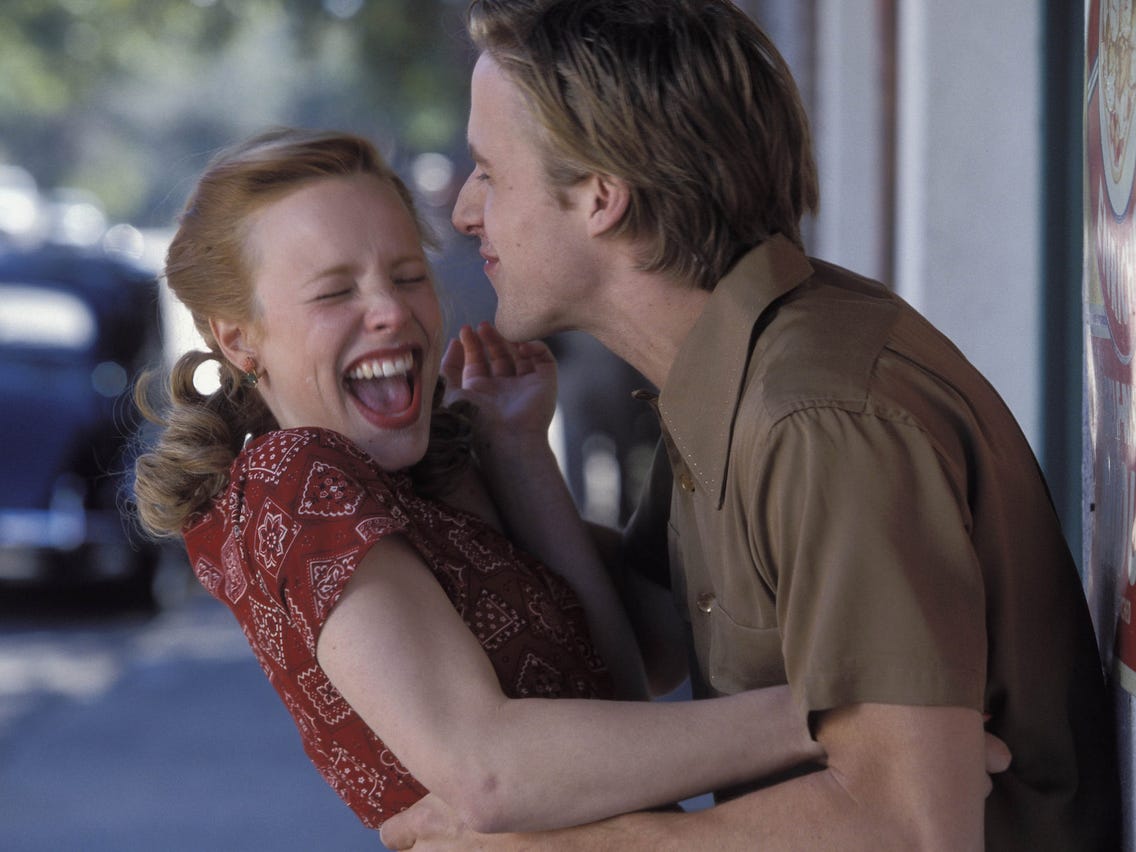 Here's some of our favourites available to stream on Netflix now. There's one for whatever romantic mood you're in, whether you want to cry it out or are in need of a good laugh.
All you need for a perfect evening is a takeaway (maybe a bottle of wine too) and a great movie.
About Time (2013)
When Tim (Domnhall Gleeson) discovers he can time travel he decides to use his gift to find a girlfriend (Rachel McAdams). Of course, this being a Richard Curtis film, not everything goes to plan.
We love this rom-com, but be warned as bits of it are sad too!
The Notebook (2004)
A film that needs no introduction, as it's now a modern romantic classic.
Based on the Nicholas Sparks novel of the same name this stars Ryan Gosling and once again, Rachel McAdams who is arguably the Queen of sad romantic movies.
Set in the 1940's this movie is equally parts sexy, sad and uplifting, it never gets old.
50 First Dates (2004)
Adam Sandler stars in this film as a vet, Henry, with commitment issues, who falls in love with Lucy (Drew Barrymore). The only problem is Lucy suffers from short-term memory loss and each morning she forgets who Henry is.
A bit like Groundhog Day, the film sees Henry getting Lucy to fall in love with him all over again each day. Hilarious and sad, this is a great feel-good flick.
Pride & Prejudice (2005)
Possibly one of the most iconic love stories of all time is Jane Austen's 1813 novel Pride and Prejudice. It follows Elizabeth Bennet, who is determined to marry for love and not wealth and security as was done at the time.
This 2005 adaptation sees Keira Knightley in the role of the stubborn and feisty Elizabeth and Matthew McFadyen as the cool and aloof Mr Darcy.
Hitch (2005)
This romantic comedy never fails to make us laugh. Starring Will Smith as Alex 'Hitch' Hitchens as a dating expert in NYC, he's cool and calm as he helps men win over the girls of their dreams.
The only problem is, when he meets his own dream woman (Eva Mendes) he suddenly crumbles himself and his cool exterior falls apart.
Fifty Shade Of Grey (2015)
If you fancy watching something a little spicier this Valentine's Day why not re-watch 50 Shades of Grey? Based on E. L. James' best selling novel, this is an erotic drama that made a sadomasochistic relationship mainstream.
It stars Dakota Johnson as the innocent and slightly shy Anastasia who meets business tycoon Christian Grey. Bits of it are ridiculous, lots of it is sexy, if we're honest we watch it for Jamie Dornan alone.
Bridget Jones Diary (2001)
We have never truly related to Bridget more than the past year. Home alone, in your pj's, singing and eating ice-cream? Yep.
Another one based on a book, this film is now iconic in the realms of the rom-com, and even though bits of it are slightly dated now (Bridget you are NOT fat) it still holds up.
Starring Colin Firth and Hugh Grant as her multiple love interests it's the perfect British film of it's time.
How To Lose A Guy In 10 Days (2003)
Benjamin Barry (Matthew McConaughey) is a hot-shot ad executive in this film who's mission is to win a big campaign. To do so? He has to get a woman to fall in love with him in just 10 days.
At the same time, journalist Andie (Kate Hudson) is writing a piece about how to lose a guy in – you guessed it, 10 days.
This is the ultimate, light-hearted silly movie to watch tonight.
Just Like Heaven (2005)
When David (Mark Ruffalo) moves into his new apartment, all seems well until he realises it's haunted by the ghost of the woman who used to live there, called Elizabeth (Reese Witherspoon).
He begins to fall in love with Elizabeth, which as she's a ghost isn't quite straightforward. It's funny, sweet and at times a little sad, perfect Valentine's Day viewing.
Friend's With Benefits (2011)

A head-hunter, Jamie (Mila Kunis) gets Dylan (Justin Timberlake) a job at GQ and they soon become friends as well.
However, both tired of the dating scene, they decide to add sex into their friendship promising each other there are no romantic feelings involved.
As you can imagine things get complicated and messy making for the perfect rom-com setup.